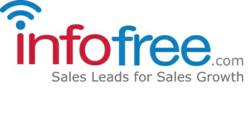 San Mateo, CA (PRWEB) September 12, 2012
infofree.com, the leading provider of unlimited sales leads, mailing lists, and business credit profiles for the low, flat price of only $49.95 per month, has just gotten a fresh look after unveiling its new homepage, including many new features that have been requested by customers.
infofree.com first launched in July 2011, offering customers unlimited access to its business and consumer databases. Since then, the company has been listening to its customers, developing and implementing new features and databases as they are requested. Over the course of the past year, infofree.com has added a number of specialty databases, allowing users to select by types of businesses, consumer hobbies and interests, occupation, and even ethnicity.
This month, infofree.com got a fresh look and feel with its new homepage, which customers are praising as being much cleaner, easier to navigate, and more user-friendly. The website has also been updated with a number of new features, including:

Search by increased geographical areas
Download by range from a large file
Search and manage download history
Additional features, including mapping and a contact manager, are in the works for the coming months.
"I love the new homepage. The site looks much cleaner and easier to navigate now. infofree.com listens to its customers' suggestions and brings them to life," said Matt Dillon, infofree.com customer.
To try infofree, visit http://www.infofree.com or call 877-448-0101 for more information.
About infofree.com
For $49.95 per month, the service provides unlimited search and download of sales leads and mailing lists, as well as the unlimited view and print of business credit profiles and email lists of 12 million businesses, 200 million consumers and homeowners, and hundreds of other unique databases. Reach new homeowners, new movers, newlyweds, recently divorced consumers, and new businesses with real time downloading and unlimited search.
The infofree.com content is compatible with the following platforms: Oracle CRM, Salesforce CRM, Microsoft CRM, Nutshell CRM, Goldmine CRM, Sage ACT! CRM, Highrise CRM, Zoho CRM, NetSuite CRM, SAP CRM, Constant Contact, RightNow Technologies, Responsys, Vertical Response, and Dun & Bradstreet.