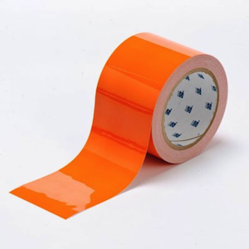 "I know I am getting quality product and complying with OSHA standards when I go through Creative Safety Supply for safety products."
Lake Oswego, OR (PRWEB) September 13, 2012
Industrial facilities with the harshest traffic environment will be amazed with Toughstripe Brady floor marking tape that is now offered through Creative Safety Supply. Floor markings are imperative for industrial and manufacturing facilities as they mark passageways, aisles, storage locations and they are important for pointing out safety equipment and egress paths. Brady Toughstripe tapes are the most durable floor marking tape in the market that will withstand forklift traffic without tearing or lifting off the floor. Any business will recognize the high quality of this product that will make life a lot easier and will bring more profit due to the longevity compared to paint. The high gloss surface of Brady B-514 shines like new paint but will not chip or flake like paint, even under the harshest environment conditions. The Brady floor tape resists marks and smudges and cleans up like new. The ultra aggressive adhesive is industrial strong but when it is time to remove it, the Brady floor tape will come off in one piece leaving no unsightly adhesive residue or damage to the floor.
Creative Safety Supply also offers a variety of other safety tapes in a multitude of colors that fall into a full collection of OSHA and ANSI safety tapes. Industrial or manufacturing facility will be able to find exactly what is needed to create hazard areas and keep employees and visitors safe through the assortment of safety products offered by Creative Safety Supply. From the number one seller, SafetyTac tape to safety floor signs and industrial labeling system printers, any business can be assured safety programs will be effective. As one safety coordinator of a mid-west business commented, "I know I am getting quality product and complying with OSHA standards when I go through Creative Safety Supply for safety products."
Please visit http://www.creativesafetysupply.com for more information about Toughstripe Brady Floor Tape and all safety products. Or call toll-free (866)777-1360 to have all questions answered by a reputable agent.