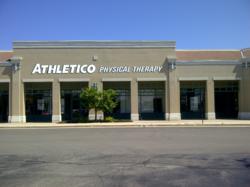 Athletico Vernon Hills offers physical therapy, sports medicine, work rehabilitation, work conditioning, and functional capacity evaluations.
(PRWEB) September 12, 2012
Vernon Hill-area residents who have pain from an accident, sports injury or even just everyday activities now have a new resource with the opening of Athletico Physical Therapy at 555 E. Townline Road, Ste. 24. The facility is located near the corner of Townline Road and Milwaukee Avenue. Athletico Vernon Hills offers physical therapy, sports medicine, work rehabilitation, work conditioning, and functional capacity evaluations. Transportation services are also available for those patients who require transportation assistance.
Justin Fedie, PT, MPT, serves as the facility manager and treating physical therapist for the Vernon Hills facility. Fedie graduated from Marquette University in 2004 with his Master of Physical Therapy degree and now resides in Libertyville with his wife and two children. He began his Athletico career at Athletico's Niles/Northwest Chicago facility.
"Vernon Hills is an excellent location for Athletico. The location offers convenient access due to its close proximity to the main thoroughfare of the area. I absolutely love the area, which is why I moved to Libertyville in 2009," says Fedie. "I look forward to building wonderful relationships by serving my community and calling Athletico Vernon Hills home."
Fedie's passion for physical therapy began in high school stemming from athletics and his love of working with people. He frequently tells his patients that what he enjoy most about being a physical therapist is seeing people get better and returning to their everyday lives.
"Every person has a story, and I learn just as much from my patients as they hopefully do from me."
Athletico Vernon Hills provides the community quality care and convenience through the following means:

Patient outcomes reporting using a third-party outcomes system to provide measurable data on a patient's progression that is discussed throughout the course of treatment
Patient satisfaction reporting throughout treatment in order to better understand and respond to patient needs while they are still receiving rehabilitation services, rather than after a patient is discharged
Convenient hours including early mornings, evenings, and Saturdays
Prompt scheduling of each initial evaluation within 24-48 hours of the patient's phone call
Ongoing patient education on diagnosis, treatment plans, and prescribed home-exercise programs
Clear, consistent communication between therapist, physician, and patient regarding progress
To learn more about Athletico Vernon Hills or to schedule a complimentary injury screening, call Justin Fedie at 847.573.0051.
Athletico Vernon Hills
555 E. Townline Road, Suite 24
Vernon Hills, IL 60061
Phone: 847.573.0051
Fax: 847.573.0345
ABOUT ATHLETICO
Athletico Physical Therapy provides orthopedic rehabilitation services to communities and organizations throughout Illinois, Wisconsin, and Indiana. To demonstrate our commitment to both our patients and referring physicians, we measure functional patient outcomes and patient satisfaction with national data comparison using a third-party outcomes system.
Our services include physical and occupational/hand therapy, work rehabilitation, performing arts rehabilitation, women's health therapy, pediatric physical therapy, vestibular rehabilitation, and athletic training. Expanded services include performance enhancement, fitness center memberships, golf fitness, endurance, nutrition, and massage therapy.
Athletico accepts all indemnity, PPO, POS, and WC plans including BC/BS, Humana, Medicare, Aetna (PPO/HMO), PHCS, UHC (PPO.HMO) and many others. As a courtesy to our patients, we verify insurance coverage.
Athletico Toll-Free Injury Hotline 877-ATHLETICO (1-877-284-5384)
http://www.athletico.com