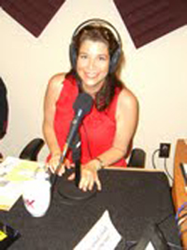 If you restore market structure, you restore American prosperity.
Atlanta, GA (PRWEB) September 13, 2012
On September 11, 2012, co-hosts Stone Payton and Lee Kantor welcomed to the studio Dara Albright with NowStreet Media. Albright appeared on Business RadioX™'s High Velocity Radio to discuss and explain crowdfunding.
Dara Albright is the Founder of NowStreet Media, a leader in financial markets' reform. Dara is a thought provoker and frequent speaker on topics relating to the private markets and crowdfunding. NowStreet is known in financial circles as a group who helps repair market structure. Says Albright, "If you restore market structure, you restore American prosperity." Albright believes this will transform entrepreneurism.
This new way of building business is called crowdfunding - essentially, pooling capital from a large group of people or a crowd who shares a particular interest. Crowdfunding began in the arts and entertainment world, but has quickly evolved into products and services as a way to raise funds. Crowdfunding is an entrepreneur's alternative to the traditional fundraising path of seeking venture capital.
Payton commented that this seemed so easy and obvious and asked Albright if there is a catch to such fundraising. As Albright explained, crowdfunding is completely legal as long as it is reward-based. That is, contributors must receive something in exchange for the money they give. Currently, there is proposed legislation to put rules and regulations around crowdfunding.
Albright is also the author of the blog NowStreet Journal, a primary provider of analysis and insight into the private company marketplace as well as the legislation and innovation currently fueling it. Based on her original hypothesis that directly correlates advancements in mass communications with stock market growth, NowStreet highlights the dynamic economic impact of a purely growth marketplace rising during the most ground-breaking period of mass media and regulatory reform.
To learn more about crowdfunding, listen to a re-broadcast of this show at High Velocity Radio.
About Stone Payton:
For over 24 years, Stone Payton has been helping organizations and the people who lead them drive their business strategies more effectively. He is a managing partner at Business RadioX™ and the author of SPEED®: Never Fry Bacon In The Nude: And Other Lessons From The Quick & The Dead, and has dedicated his entire career to helping others produce better results in less time.
About Lee Kantor:
Lee Kantor has been involved in Internet radio, podcasting and blogging since he started the Dr. Fitness and the Fat Guy show in 2005. Since then, Lee has interviewed well over 1000 entrepreneurs, business owners, authors and celebrities on a variety of shows and at live events. In addition to his hosting duties, Lee is a managing partner at Business RadioX™ and is committed to helping entrepreneurs and business owners in Atlanta learn how to use radio to dramatically grow their businesses.
About High Velocity Radio:
http://highvelocityradio.businessradiox.com
High Velocity Radio celebrates Top Performers Producing Better Results In Less Time. The show brings in business leaders and experts to talk about their methods and to help listeners develop the Competence, Confidence, and Commitment to Succeed With SPEED.
About Business RadioX™:
Business RadioX™ provides a turnkey solution for business owners who want to leverage the power of internet radio to meet their best prospects, establish credibility for their organization and heighten the placement of their brand in search engines rankings. With a professional venue and a proven formula, Business RadioX™ helps hosts to podcast their shows and create a regular stream of dynamic content to share with their prospects and feed the search engines every week. Programs are recorded and streamed live to the internet from our studios in the greater Atlanta area. For more information or to hear a live show, visit: http://www.BusinessRadioX.com.