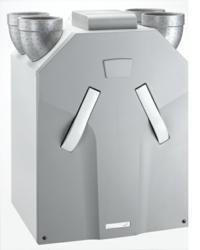 Malta, NY (PRWEB) September 19, 2012
The Building Performance Institute, Inc. (BPI) and Zehnder America are pleased to announce a Memorandum of Understanding allowing BPI's Quality Assurance Providers to verify proper installation and commissioning of Zehnder ventilation systems in retrofit and new construction projects, as part of BPI's nationwide Quality Assurance Program. This will ensure proper balancing of fresh-air supply and stale-air exhaust for optimal ventilation efficiency. Zehnder will provide in-depth training sessions on the design of high-efficiency, whole-house ventilation systems to BPI's quality assurance network.
BPI's Quality Assurance Program now includes this and other control services such as whole house diagnostics, HVAC distribution diagnostics and third party verification. The Quality Assurance Program is customized to meet the QA needs of contracting companies, manufacturers and government or utility incentive programs. BPI depends on trained, highly skilled BPI certified professionals to assist with the national QA/CS Program.
"As we are witnessing a growing demand for healthy, comfortable and energy efficient whole-house Heat and Energy Recovery Ventilation Systems, we found an ally in BPI to support and guarantee our standard of excellence across North America," says David Chouvelon, Vice-President of Zehnder America in charge of the Comfosystems Business Unit.
About Zehnder America
Zehnder America provides high quality heating and ventilation solutions to promote comfortable, healthy, and energy-efficient indoor living. Zehnder's Comfosystems division ensures fresh air and a healthy atmosphere for the home year-round. Zehnder America is a division of the Zehnder Group, which is world renowned in the development and production of high quality heating and ventilation solutions and is headquartered in Switzerland.
About the Building Performance Institute
BPI is the nation's premier building performance credentialing, quality assurance and standards setting organization. BPI develops technical standards using an open, transparent, consensus-based process built on sound building science. BPI is accredited by the American National Standards Institute (ANSI) as a certifying body and as a developer of American National Standards.
BPI offers the following:
•National standards to ensure top quality, consistent protocols are being followed throughout the home performance and weatherization workforce
•Certification of individuals in building analyst, heating, AC/heat pump, shell/envelope and multi-family designations
•Accreditation of contracting companies committed to delivering quality home performance improvements
•Quality assurance to verify conformance with BPI standards and provide feedback for continuing improvement
•Partnership with testing organizations that deliver BPI services in their market
For more information on BPI, visit http://www.bpi.org.