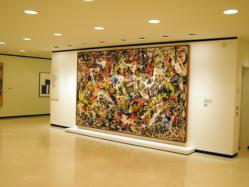 The multitude and interplay of the shapes and colors in Pollack's Convergence can now be fully appreciated with the new SoLux lighting.
Rochester, New York (PRWEB) September 13, 2012
In keeping with the spirit of giving back to the Western New York community that has been so good to him, Kevin McGuire, President and Founder of Tailored Lighting Inc. of Rochester, NY, has reached out to the Albright-Knox Art Gallery in Buffalo, NY and donated his SoLux lighting to help bring out the true beauty of the art housed within it's historic walls. Coincidentally the institution is celebrating its 150th year anniversary.
McGuire knows a few things about art and lighting. "The Knox Gallery is a treasure trove of works of art by masters such as, Picasso, Gauguin, Cézanne, van Gogh, Dalí, and Pollock. In order to see the paintings as the artists intended, natural lighting is required. "
Mr. McGuire's invention, the SoLux daylight bulb, has quietly become the world's most specified art light source illuminating museums and art galleries at home and abroad including the van Gogh Museum, Musée d'Orsay, and National Gallery of Art,. Promoting his lighting technology has not always been easy. Quoting McGuire, "The Long Curve was a term coined by Martha Jackson in reference to the time it takes for contemporary art to be accepted by the general public. This term can also apply to ground breaking technology. For progress to occur it takes not only the inventor but also requires innovative minds like those at the Albright-Knox Art Gallery to adopt it."