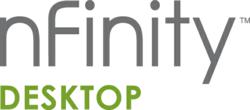 nGenx enables us to deliver our software products to our customers in the cloud where all the tools they use daily are maintained for smooth operation and are optimized, secure and available.
Chicago, IL (PRWEB) September 12, 2012
nGenx, a leading cloud services provider of hosted applications and desktops, has officially launched its next generation product, nFinity Advanced Desktop™.
"At our core, nGenx specializes in virtual application delivery. Our new nFinity Advanced Desktop™ is a platform that allows the delivery of business applications to any device, anywhere while creating a familiar and consistent user experience," said Robert Bye, President and CEO of nGenx. "nFinity Advanced Desktop™ provides the power of a desktop with the accessibility of the cloud. The user experience looks and feels much like a local PC running a Windows 7 Operating System. The key differences can be found in security and mobility."
With the nFinity Advanced Desktop™ the operating system, applications, data and user settings reside securely within the confines of the nGenx data centers. End users are infinitely more mobile as they can now access their applications from multiple devices such as an iPhone, iPad, Android, Windows PC or Macbook.
Powered by cutting edge Citrix and Microsoft technologies, the nFinity Advanced Desktop™ enables Independent Software Vendors (ISVs) and other partners of nGenx to quickly and easily deliver their software products in the cloud to meet the demands of their markets. The nGenx nFinity Control Panel provides partners a single pane-of-glass provisioning system. Through the simplicity of a web browser, partners can easily provision users, change options and manage accounts on their own, at any time. Other benefits provided by nFinity Advanced Desktop™ include:

Proven Security – For the past six years, each nGenx data center that hosts applications, data, and desktops has been SAS 70, Type II and SSAE 16 certified.
Reliable Infrastructure – For more than a decade, nGenx has perfected its infrastructure by ensuring highly available clusters, a redundant and secure network for any type of data while all snapshot and replication services are managed and kept offsite.
Competitive Advantage – Software vendors can quickly take their customers to the cloud with a full product suite in as little as 60 days without investing time, money and market share in a complete software rewrite.
Customized Branding – The entire nFinity Advanced Desktop™ user experience can be customized to fit the corporate branding requirements of any nGenx White Label Partner.
"nGenx enables us to deliver our software products to our customers in the cloud where all the tools they use daily are maintained for smooth operation and are optimized, secure and available," says Gabe Authier, Product Manager for Viewpoint Construction. "Our customers are able to eliminate risk by having their hardware and software managed and protected in the cloud all while increasing productivity because they can access our software in remote locations such as job sites on any device. Most importantly, nGenx enables us to eliminate the burden and worries of customers that are managing their technology infrastructure in-house, which allows them to focus exclusively on their core business – construction."
nGenx focuses solely on their partner's ability to offer new technologies to their customers via the nFinity Partner Program. Also available is nFinity Consulting, a powerhouse team of Citrix Technology Professionals who can help other service providers design, build, and operate application hosting solutions from within their own Data Centers.
About nGenx
Since its founding in 2000, nGenx has been a pioneer in cloud computing, working with strategic partners such as Microsoft, Citrix, Google, Intuit, Rackspace and others to develop hosted desktops and applications from the cloud. nGenx solutions include nFinity Desktop™, nFinity Cloud™, and nFinity Apps™ which provide access to core line of business and Microsoft Office productivity applications. nGenx markets its solutions through a highly robust channel partner program supported by its nGenx Control Panel™, a single pane-of-glass provisioning system that provides partners and enterprise customers complete control over their IT environments.