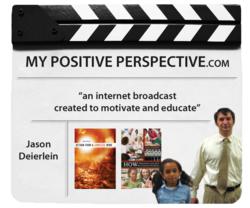 This is an excellent time to honor those that help ensure our freedom
Charleston, SC (PRWEB) September 12, 2012
September 13, 2012, is the day of an event that My Positive Perspective wanted to help support and bring awareness to. The event is designed to raise money for a program called "Operation R & R." Event spokesperson said of the event, "Operation R & R was created to provide free vacations to military members and their families when their tours of duty are over. This time is important because often times our military members won't see their family for years."
My Positive Perspective founder, Jason Deierlein points out, "We sometimes hear stories of difficult times of our military and their families having to be attached from their families for an extended period of time." This is an excellent time in our nation's history to honor the men and women that serve to ensure our freedom. It is important to always keep in mind their families and help appreciate the sacrifices they also make.
In Deierlein's first published book, Return From a Comatose Mind, Deierlein credits part of his recovery from a car accident to his hospital roommate, World War II veteran Richard Meyer. Looking back on the time, Deierlein says, "Richard was as much a part of my recovery as the outstanding therapists and family members that took care of me when I was in need." The two would come back from therapy and spend hours talking about how they changed the world. "He helped shape me into who I am today," Deierlein says.
My Positive Perspective is an internet talk show designed for the purposes of improving the lives of all our community and society. Believing that attitude and character always wants to be improved and that it should be our goal to always help each other. Positive advancement is what this company tries its best to always promote.