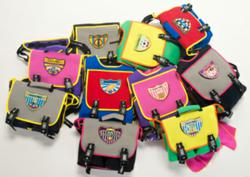 "SuperME is so much more than just cool backpacks and lunch bags...it encourages creative and imaginative play, which is important for early childhood development and education" Esty Marcus, Chai Preschool Director
San Mateo, California (PRWEB) September 12, 2012
SuperME is a new line of cool backpacks and cute lunch bags that combine the functionality of backpacks and insulated lunch bags with the fun of superhero dress-up play, encouraging children to uncover their inner superhero.
SuperME held this trunk show as a way to give back to the Chai Preschool community. The co-founders, Daphne Kaufer and Rena Stern met at Chai Preschool when their children started at Chai Preschool two years ago. The trunk show was an enormous success, with both children and parents loving the products. At the end of the trunk show, the Chai Preschool's play-yard was filled with children running around playing superheroes with their new SuperME bags.
Says Esty Marcus, Chai Preschool Director, "What is truly great about SuperME is these are so much more than just cool backpacks and lunch bags. SuperME also encourages creative and imaginative play, which is such an important element of early childhood development and education."
SuperME has three categories of product:
Cape backpacks – This sleek, stylish backpack has a built-in superhero cape along with a coordinating superhero eye mask. The superhero cape is stored in a hidden zipper pocket when not in use. Pulled out, it drapes heroically over the backpack. In either form it is an eye-catching backpack sure to inspire pride in those who are wearing it. The size and lightweight construction make these ideal preschool backpacks.
Messenger style lunch bags – The messenger style lunch bags feature a removable strap, which transforms into a superhero utility belt. With the strap off, the bag converts into a hand-held satchel style bag. These stylish bags include a shoulder pad for comfort and feature two outside pockets sized to fit water bottles, and inside pockets to keep lunch items and daily essentials organized. The messenger bags are sized to fit pre-schoolers to tweens.
SuperME patches – These Velcro shield-shaped patches, which work with both bag styles, reflect a variety of interests and hobbies such as sports (football, soccer, swimming, cycling), fashion, and music.
Both bag styles are available in five color combinations: Classic (red/blue/yellow), Bubblicious (pink/purple/yellow), Urbanista (black/silver/pink), Ninja (black/silver/yellow), and Naturalist (yellow/green/orange). SuperME bags and patches are available online at http://www.supermehero.com.
If you are interested in holding a SuperME trunk show as a fundraiser for your school or organization, contact SuperME at info(at)supermehero(dot)com or 866-787-3710.
About SuperME
SuperME is a San Francisco based company created by two Super moms: Daphne Kaufer and Rena Stern. The inspiration for SuperME came from their children, who love dressing up and carrying their own bags to school, parks, day trips, and vacations. Their goal for SuperME was to create a line of functional products that are fun to play with and reflected the uniqueness of each child.
About Chai Preschool
Chai Preschool in Foster City is a unique Reggio Emilia inspired preschool that provides a child centered approach to learning and life skills. Children are valued as capable, honored guests and the highly qualified staff work hard to plan and create interesting and engaging learning experiences where children can interact with the environment and promote self expression through art, music, language, science, playing and other modes of expression.