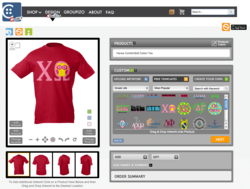 Chicago, IL (PRWEB) September 26, 2012
Izo announces the launch of its Greek C-stores as part of its fall educational outreach. With formal recruitment under way at many universities, and informal rush continuing throughout the fall at others, custom lettered gear is a must - and Izo has the goods to meet the Greek's custom apparel needs.
Customizo.com's online catalog is flush with popular apparel and products including v-necks, yoga pants, laptop cases, and koozies, from brands such as American Apparel, Nike, Adidas, Soffe, and BuiltNY. With free, fully customizable templates for a diverse selection of fraternities and sororities, along with a slew of other college designs, the Design Studio is stocked and ready for recruitment, bid day, formals, and other Greek events.
To better serve the Greek community, Izo rolls out C-stores for ten of the largest national fraternities and sororities. These stores, specific to each organization, come ready-stocked with templates and products, and are fully hosted and managed by the Izo team. In addition, the Add Text feature and Greek fonts in the Design Studio make customizing a user-uploaded design or photo from Snapizo, Izo's mobile app, simple and easy.
This fall, Izo presents C-stores for Chi Omega, Delta Zeta, Alpha Phi, Delta Gamma, Tri-Delt, Tau Kappa Epsilon, Sigma Phi Epsilon, Kappa Sigma, Sigma Alpha Epsilon, and Sigma Chi in its initial Greek launch. C-Stores for additional organizations are available upon request from the Izo team.
About Customizo and Izo Brands: With Customizo, Groupizo and Snapizo, Izo is knitting the framework for the future of e-commerce with a multi-faceted set of innovative product customization and design tools, a unique group collaboration interface, and mobile media distribution applications. Izo's mission is to be the most customer-centric, creative, and innovative company in the custom apparel and promotional products industries.