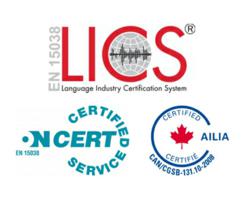 Vancouver (PRWEB) September 13, 2012
ABC Language Solutions, a professional translation agency based in Vancouver, has passed an external audit assessment following a successful certification audit in June, and has been recommended for ISO Quality Management Systems and CAN/EURO Translation Services standards certifications.
The three key standards, which establish and define the requirements for the provision of translation services, and ensure quality management systems are in place to meet the needs of key constituents, are major differentiators with worldwide recognition across diverse industries. The company has become the first translation agency in Western Canada with such certifications, highlighting their commitment towards high quality standards, customer and operational excellence and best practice application in the translation industry.
In Canada, among roughly 1200 companies that provide professional translation services, less than 15 have such certifications, putting ABC among the most respected, qualified and best-in-class translation service providers. Additionally, the ISO 9001:2008 announcement is likely to strengthen the relationship between ABC and its client base, as it is often a requirement in many industries – especially those regulated – that all vendors and subcontractors are ISO-certified in addition to the main company. This level of superior quality management reaffirms the company's commitment to meeting and exceeding client expectations, and means that clients can deliver sensitive projects with full confidence in their linguist partner.
"We would like to emphasize the importance of the ISO standard. Our clients that represent diverse industries, from aerospace and medical instrumentation, to oil and gas, law and telecommunications, are well familiar with it. As a professional translation agency, we tried our best to ensure that we have an efficient quality management system in place in order to guarantee the highest quality results in the shortest turnaround times", said ABC Language Solutions CEO, Andrey Bondarenko.
Furthermore, the CGSB 131.10 (the Canadian Translation Services Standard and EN 15038 (the European Quality Standard for Translation Services) certifications will ensure ABC Language Solution's clients that the company complies with the processes required by the Standards, while offering benefits such as improved service performance, quality, consistency, added value and reliable commercial relationships.
[Boilerplate] ABC Language Solutions is one-stop-shop professional translation agency based in Vancouver that helps companies across a diverse range of industries succeed in foreign markets by providing fast, quality, culturally sensitive and competitively priced translation and linguistic services.