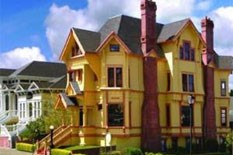 When it comes to wine lists, few have the depth and quality of Restaurant 301 at the Hotel Carter in Eureka.
Sacramento, CA (PRWEB) September 12, 2012
Wine and California bed and breakfast inns have always proved to be a good pairing. Most California inns serve wines with evening hors d'oeuvres, some are nestled among the vineyards stretching across the state, and select inns are noted for their extensive cellar collections. On August 31st, Wine Spectator announced its Restaurant Wine List Awards for 2012, and six members of the California Association of Bed & Breakfast Inns (CABBI) received honors. CABBI raises a glass to Restaurant 301 at the Hotel Carter, Groveland Hotel's Cellar Door Restaurant, Aubergine at L'Auberge Carmel, Benbow Historic Inn, Mirabelle Inn and Restaurant and Europa Restaurant at Villa Royale.
When it comes to wine lists, few have the depth and quality of Restaurant 301 at the Hotel Carter in Eureka. The critically-acclaimed restaurant has one of the best wine lists in the world, with over 3,800 selections and has been a proud recipient of the Wine Spectator's most prestigious honor, the Grand Award, every year since 1998. The honor is bestowed upon only 74 other restaurants worldwide. Restaurant 301 offers a seasonally-driven culinary experience featuring pre-fixe menu options that include wine pairings with each course. The restaurant is part of an enclave of four Victorian mansions that comprise the Carter House Inns. The inns combine contemporary tastes with the gracious elegance of a bygone era. Guest rooms feature antique appointments, private baths, marble fireplaces, whirlpool tubs, large four-poster beds, double-headed showers, in-room entertainment centers, and honor bars. Guests are treated to wine served with hors d'oeuvres each evening in the lobby and a full breakfast served each morning in the restaurant.
The Cellar Door Restaurant at the Groveland Hotel has been recognized by Wine Spectator with the Award of Excellence every year since 1998, but for the past two years, the restaurant has received the magazine's second highest honor: the Best of Award of Excellence. The Cellar Door Restaurant features over 600 labels from around the world with a special section dedicated to Sierra Foothill wineries, including Tuolumne and Calaveras counties. Most of the restaurant's extensive wine cellar rests against the original stone foundations of the hotel, laid in 1849 by Chinese laborers during the California Gold Rush. The laborers were well-known for their skill in constructing stone walls, and their work has stood the test of time at The Groveland Hotel. The walls keep the wine cellar at exactly 62 degrees year-round. The 17-room, historic hotel features featherbeds with down comforters, private baths, free WiFi/high-speed Internet access in all rooms, and a breakfast feast each morning. The Cellar Door Restaurant offers a casual yet fine dining experience, serving California cuisine with fresh, seasonal ingredients.
The intimate 12-table Aubergine restaurant at L'Auberge Carmel features an underground wine cellar constructed beneath the inn's courtyard to house the restaurant's 4,500-bottle collection. The wine list features great wines from around the world with a particular focus on wines from Monterey County and France. Wine Spectator bestowed its Best of Award of Excellence upon Aubergine for 2012. The ever-changing menus for the restaurant feature local and seasonal ingredients with a heaping serving of spontaneity from Executive Chef Justin Cogley and Executive Pastry Chef Ron Mendoza. Diners can choose from the Four Course Menu or the Chef's Tasting Menu, which draws upon up to 20 ultra-seasonal seasonal ingredients and course-by-course wine pairings. L'Auberge Carmel is a 20-room, European-style luxury hotel built in 1929 and renovated in 2004. The guest rooms feature fine linens and down bedding, flat-panel TVs, wireless internet access, and spacious baths with radiant floor heating, hand-hammered copper sinks and custom bath products. Some rooms also have soaking tubs. Accommodations include a signature breakfast served each morning.
On the Redwood Coast near Avenue of the Giants, Benbow Historic Inn is a historic country inn with a celebrated dining room that received the Wine Spectator's Award of Excellence for 2012. Benbow Historic Inn's award-winning wine list features some of the best wines from California, the Pacific Northwest and Europe. Under the direction of new Executive Chef Bryan Hopper, the cuisine combines seasonality, freshness and simple, honest flavors with a zeal for innovation. Wine Spectator called Benbow Historic Inn "One of the best restaurants in the world for wine lovers." In additional to the acclaimed dining room and wine cellar, the 55-room features a cocktail lounge, pool and Jacuzzi, nine-hole golf course, complimentary bicycles, and an electric car-charging station. All of the guest rooms have private bathrooms, hair dryer, telephone, clock radio, coffee, ironing board and iron and a decanter of sherry. Historical Building rooms reflect the historic charm of the inn, do not have TVs and feature original doors hand-painted by Eva Benbow. Terrace rooms have patios, patio table and chairs, robes, TVs and VCRs. King Terrace rooms also have mini-refrigerators.
Mirabelle Inn and Restaurant in Solvang is another recipient of Wine Spectator's Award of Excellence for 2012. Mirabelle Restaurant's award-winning wine list offers Santa Barbara County's finest offerings as well as a rare selection of older Napa, Sonoma, and French vintages. The restaurant serves exquisite wine country cuisine in an elegant ambiance. The inn's romantic and airy guest rooms feature antique furnishings, fireplaces, luxurious featherbeds and down duvets, plush robes, private bathrooms, cable TV, DVD/VCR/CD players, wireless internet access, and superior amenities. Some also have some Jacuzzi tubs. In the morning, guests are treated to a delicious breakfast, which often includes traditional Danish Ableskivers, wine and appetizers in the afternoon, and tea and treats in the evening.
Year after year, Europa Restaurant at Villa Royale Inn in Palm Springs racks up the awards including this year's Wine Spectator's Award of Excellence. Europa serves modern Continental dishes, such as the signature Salmon in Parchment and Double Crown Rack of Lamb, inspired by the flavors of France, Italy, Spain and Greece. Savor them fireside in the warmth of Europa's intimate dining room, or by trickling fountains under the desert stars. Villa Royale Inn is a secluded, boutique resort on over three acres with one-story villas and rooms connected by garden pathways. The guest rooms are comfortably furnished with antiques, down comforters and cozy robes. Some rooms also have fireplaces and private patios.
For more information about these and other bed and breakfast inns in California, visit http://www.cabbi.com.