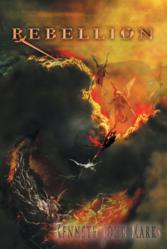 My motivation for writing this book is simply to share these truths about God with others.
Portland, Oregon (PRWEB) September 13, 2012
Check the latest news stories and it is easy to see that evil and its offspring, sin, are all around us in today's world. Yet despite the world's unwillingness to acknowledge that sin exists, it is still pervasive in modern society.
In "Rebellion", the new release from author Kenneth John Marks, evil's origin and its impacts on humanity are explored as the reader navigates a thrilling historical tale set in Jerusalem during the 5th century BC.
The dramatic but biblically based storyline in "Rebellion" reveals a God many Christians today have lost sight of – a God that is not only loving and compassionate but is also powerful and terrifying because He hates sin and evil. The book allows readers a unique historical perspective into the origin and history of evil woven into the fictional accounts of the residents (and especially the children) of ancient Jerusalem. "Rebellion" marries vivid imagery with fast-paced storytelling to remind readers of God's awesome power and of fearful consequences for those who turn away from Him.
"My motivation for writing this book is simply to share these truths about God with others," says Marks. "Many of these truths concerning God we all know – that He is loving, kind, compassionate, but many Christians today forget that the Lord hates sin and evil and is to be greatly feared if we turn away from following Him."
For more information, visit http://www.kennethjohnmarks.com.
"Rebellion"
By Kenneth John Marks
ISBN: 978-1-4497-4385-7
Softcover, retail price: $11.95
Hardcover, retail price: $28.95
About the author
Ken Marks was born and grew up in Northern California. He attended college at the UC San Diego, where he studied history, music, mathematics, various physical sciences, and literature. Ken now lives in Portland, Oregon, and is active as a teacher in his church. Ken has studied the Bible and Biblical history for many years.