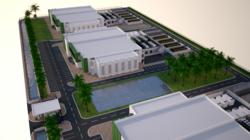 "A virtual tour of the region's most advanced datacenters"
Willemstad, Curaçao (PRWEB) September 11, 2012
Curaçao Technology Exchange (CTEX), N.V. launched today a virtual tour of its advanced data centers. Developed in conjunction with Dragonfly in the U.K. customers can take a virtual tour on the web of 'CU-1', the company's first of four major data centers being constructed on the island of Curaçao.
"The virtual tour provides customers with a background on who we are as well as a very detailed technical flythrough of our advanced data center. Through this visual presentation, our prospective customers gain insight and a better understanding of the magnitude of what we are building and the impact that it will have. "Significant design and engineering went into our facility and we want to ensure that this is conveyed to our customers," says Germaine Gibbs, Manager, Marketing & Sales. The 12-minute detailed tour, which is available on CTEX's website at http://www.ctexpartners.com provides a virtual view of the data center, using the most advanced rendering and graphics technology.
CTEX is in the construction phase of 'CU-1' the first of four centers and has partnered with Schneider Electric, LEE Technologies, Greenblock and others to leverage lessons learned and advanced solutions gathered from building similar LEED certified, TIER-IV, 2N+1 facilities across the world. Construction is progressing at record speed and the delivery team comprised of local and international engineers is making use of new building techniques and materials to build one of the most energy efficient facilities in the region. Together with Greenblock, CTEX is using integrated concrete forms (ICF) as a method to significantly reduce cooling requirements by significantly cutting insolating the interior of the facility from outside elements. Local construction is in the hands of DUSRON N.V. while construction oversight is in the hands of Civil Engineering Caribbean and LEE Technologies who specializes in building high end datacenters.
CTEX's 'CU-'1 will the first TIER-IV Uptime Institute certified data center in the Caribbean and Latin America, making Curaçao a unique destination for businesses in the region. Curacao was chosen as the site for the region's most ambitious technology initiative due to its geographic location, which is outside the hurricane belt and major seismic zone, the multi-lingual nature of its workforce, connectivity, political neutrality and fiscal benefits.