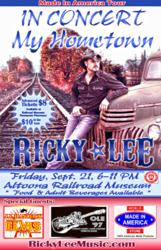 Elma, New York (PRWEB) September 12, 2012
The Made In America Store and Ricky Lee are no strangers to coming together and making some noise. Since 2010, the duo has put on over 50 shows for veterans, fans and followers of the "Buy American" movement. Together they have created and released 3 full-length, 100% American made CDs, sent over 20 World War II Veterans to their memorial through Honor Flight and played numerous free community events. The concert in Altoona, Pennsylvania is very special for Ricky Lee in that it is his hometown.
Altoona, a small railroad town with a population just shy of 47,000, will host a live performance with Nashville Recording Artist, Ricky Lee. The Made In America Store will be bringing its mobile store to the event both Friday, September 21st and Saturday, September 22nd. The mobile store will set up right outside the Altoona Railroaders Memorial Museum where Ricky Lee will be performing, to honor a time when manufacturing led the charge of the American economy. The town also holds another special trait; it is Ricky Lee's hometown.
Tickets for the Made In America Tour featuring Ricky Lee in Altoona can be bought prior to the event at the Railroad Museum Thompson Pharmacy for $10 or $15 at the gate. During the live performance, food and adult beverages will be available to purchase for anyone interested. Special Guests for the show will present J.J. Hancock the "Ultimate Elvis Experience" and Ole '97, a Johnny Cash/June Carter Tribute Band.
Looking to buy 100% American made Country-Rock Album? Click here to check out Ricky Lee!
For anyone that has been following the Made In America Store movement, they have heard about Ricky Lee and his patriotism. Like Ricky Lee, the Made In America Store has donated to VFW posts, hosted numerous events and honors them every day. The Made In America Store and Ricky Lee have been leading the "Made In America Tour" and is finally traveling to Altoona.
The Made In America Store is the only brick and mortar store that sells 100% made in the United States products from over 350 vendors. Consumers can visit http://www.MadeInAmericaStore.com or call 716-652-4872 to get more information or shop our catalog of over 3,500 items. Both Active Duty Military Personnel and U.S. Military Veterans receive a 10% discount every day. Followers of the "Made In America" movement can keep updated with the Made In America Store through Facebook, Twitter, Google+, Pinterest, FourSquare and even their own blog on Wordpress!