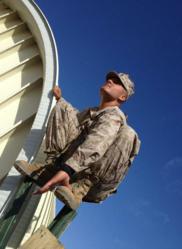 He made a promise to me about three weeks ago, he said 'before you leave we're going to do this' and he kept his promise. I appreciate that.
Pennsylvania, White Oak (PRWEB) September 13, 2012
Brett Puwalowski, a lifetime Marine based in Camp Lejeune, North Carolina, decided he wanted to do something for his dad in order to get him out of a physically demanding job he had been working sixty-some hours per week at for far too long. Unfortunately he was called back to duty a little earlier than he expected. With some help he was able to get everything in place and ready to go with only three days left before deployment. Discount Retail Store Services conducted the telephone interview:
Prior to his deployment Brett and his father sat down together and began talking. Brett's father is getting older they reflected, and working sixty hours a week in the scrap yard is demanding. Brett's plan has been to put his twenty years in for Uncle Sam and the Marine Corp and move on to something less stressful. With a little money set aside the two decided the best way to achieve this plan was to start a business.
They began their search online, "We were going to buy a franchise, than we realized it costs hundreds of thousands to buy one that is already established. We stumbled upon a store and thought 'retail, why not start from the bottom up and do our own thing?' We found Dollar Store Services and contacted them. We were like, 'this is the best option we have, this is the best deal, let's go for it.'"
The next step was financing. They spoke to Dave Maxey, the Dollar Store Services financing specialist. Brett and his father were able to get all the loans they needed without any problem, "He helped us, guided us in the right direction, and helped us get our finances together."
Finding a location was a challenge. Brett was training in CA but he and his father were located in Pennsylvania. It was up to his father and Dollar Store Services to find the perfect place. In a short time he got a phone call, "This is it" his dad let him know. It was a 2,000 sq. ft. spot in the Oak Park Mall in White Oak, PA. He noted it gets great foot traffic, there are nearby anchor stores, and practically no competition in the greater area.
"I have to give all the credit to Brandon Collins. He was by far the best representative from (Dollar Store Services). He actually made this dream come true. He made a promise to me about three weeks ago, he said 'before you leave we're going to do this' and he kept his promise. I appreciate that." As of 9/11/12 the lease is signed and everything is ready to go.
Along with financing and finding the perfect location Brett was happy with Dollar Store Services' ability to acquire merchandise through their vast network of suppliers.
Originally Brett was supposed to leave in late October but deployment was pushed up a month. "My dad wanted me to be there with him to get that first dollar, hang it on the wall, sign it and all that, but he's going to take pictures of the whole thing, you know, live life through the pictures."
Brett clarifies that he is not upset about it, that he looks at it like it is what he has to do. Right now he is taking it four years at a time and plans on signing up again once his current four years are up. Brett's dad will be running the shop and Brett says he is flirting with the idea of opening more stores.
When asked whether this is something he'd recommend to other people in the military Brett responded, "I'd recommend it 100%."
You can view the video for this interview here.
4 QTRS is a 2,000 sq. ft. dollar store that will carry a combination of unique, inexpensive, quality items from essentials to novelties all for a dollar. According to the new owners the higher quality merchandise and more attractive layout make it different than other dollar stores, but everything is still a dollar or less. It is located at Oak Park Mall, 2001 Lincoln Way, Str #14-A, White oak, PA 15131. Estimated opening date is October 6, 2012.
Dollar Store Services is a business development company that covers all core tasks associated with opening a dollar store including financing, site location, lease agreement, business training, full store build out, wholesale support, marketing support, advertising support, and ongoing support in all areas of business and marketing for the lifetime of the store with no franchise fees. Dollar Store Services is part of Discount Retail Store Services which has jump-started nearly 3,000 entrepreneurs' dreams. DRSS is also a member of Heroes To Home. Find out more about their Veteran discount program by visiting them on Facebook.