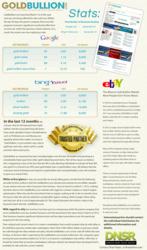 I think eBay has quietly become one of the most important figures in this industry, especially for individuals who are new to precious metals investing.
Delray Beach, Florida (PRWEB) September 12, 2012
When GoldBullion.com launched on March 1st of this year, it did so while attempting to somewhat hide its true intentions, or put another way, its true business model. The co-founders of the site always wanted to launch an informational website that would have great objective information for investors, but their ultimate goal was to take a major bite out of the estimated $300 million in sales that eBay does annually by allowing precious metals dealers to sell gold and silver in their marketplace for a fraction of the cost.
According to GoldBullion.com co-founder, Sean Sullivan, he was incredibly shocked to find out that so much commerce was done in this industry on eBay; an industry that is known for its notoriously low margins. Considering all of the fees that they charge their members on top of the cut that PayPal takes, it is not a difficult argument to make.
"I think eBay has quietly become one of the most important figures in this industry, especially for individuals who are new to precious metals investing. It is not just the estimated $300 million in sales that is staggering, but a lot of people speculate that the total amount of private sales that occur as a result of eBay listings is about three to four times that amount.
There's a lot of companies who sell on eBay at a loss only because they know that they will make up for it by gaining a client who will buy and sell with them offline next time. So our goal became pretty clear, cut out the high costs for sellers and make it more accessible to a larger number of consumers, specifically people who are not comfortable with auctions."
With their ultimate goal in mind, GoldBullion.com launched and although the company had created its own auction marketplace, the site launched without it, because the site needed to first gain some ground organically within the search engines and build up a large user base, who just wanted a good resource for news and information.
Unfortunately, or fortunately depending on how you look at it, the company ran into a snag with the development of GoldBullion.com. The company owned another business call BankAds, which started to see a massive amount of unexpected growth right around the same time that Goldbullion.com launched. The Co-Founders and board members quickly realized that BankAds would required 100% of their attention for the next 12 months.
So, although the GoldBullion.com website has remained the same since its launch date, to their surprise and delight, the site has continued to gain ranking and build traffic since launch, no doubt thanks in large part to the power of the domain name.
Until recently Mr. Sullivan, his co-founder and board members were content with having the site remain on the sidelines until they were ready to turn it into a full time business. However in late August that changed when they received a significant unsolicited offer from a large mining company based out of Canada.
"It was the first really significant offer we have ever received for the domain. After that point we kind of took a step back and said, 'why did we get this offer all of the sudden?'"
Then after doing some research they soon discovered that the popularity of the term "Gold Bullion" had exploded in the last six-months, in large part due to the regulations that are now imposed by the IRS on precious metals investors in order to invest part of their IRA into gold. Another reason for the popularity of the term is likely caused by the less than reputable companies selling graded gold coins with wildly inflated values that left many investors in the red immediately.
Gold Bullion has quickly become the hot term for the precious metals industry. The term essentially means, investment grade gold that doesn't have any value other than the weight and what gold is trading for at that time.
So why cash out on such a "golden opportunity"?
"We are incredibly busy, it's going to be six-months before we can invest any real time into the project. So we thought, why not see who else might be willing to make a substantial offer. Our board will either approve or reject the offer. In the event it doesn't sell, we'll just launch the auction marketplace in six-months as originally planned. Either way, we are fine."
Presently the acquisition opportunity is being brought to all of the large mining, processing, wholesale and retail companies in the precious metals industry.
Interested parties who would like more information should contact Brad Hayes at who is handling the sale of these assets by going to this link.
GoldBullion.com is based out of Delray Beach, Florida.