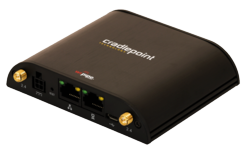 The availability of CradlePoint devices on AT&T's network will help us meet the growing demand we've seen for our wireless network solutions over the last year both domestically and internationally.
Boise, Idaho (PRWEB) September 12, 2012
CradlePoint, a leader in 4G/3G wireless networking for the distributed enterprise, today announced the CradlePoint ARC and COR series solutions for AT&T's LTE and HSPA+ networks. The CradlePoint ARC MBR1400 Mobile Broadband Router is CradlePoint's bellwether networking solution for distributed enterprises and retail branch locations providing wireless back up (failover) and primary network connectivity. The CradlePoint COR series, designed for the machine-to-machine (M2M) market, has a small form factor for high-bandwidth applications like kiosks, digital signage, ATMs, vehicles, and video surveillance.
"With the emergence of 4G LTE at speeds up to 10 times faster than 3G, and eight times faster than T-1 lines, enterprises are turning to wireless connections and the cloud to better manage their operational and transactional applications," said George Mulhern, CEO and Chairman of the Board of CradlePoint. "The availability of CradlePoint devices on AT&T's network will help us meet the growing demand we've seen for our wireless network solutions over the last year both domestically and internationally."
As wired and wireless network infrastructures converge, distributed enterprises and M2M system integrators have turned to CradlePoint solutions for the flexibility and versatility they provide when deploying instant, back-up, or primary networks. The CradlePoint COR and ARC series are designed with multiple wired and wireless WAN connectivity options and routing features like quality of service (QoS), VPN termination, and load balancing that allow users to optimize connections for both wired or wireless networks.
With the CradlePoint ARC CBA750 Adapter, CradlePoint has capitalized on this trend with a solution that "drops in" to wired networks and enables a high-performance LTE failover solution to be deployed without the hassle of ripping and replacing wired infrastructure. When a wired line is interrupted, this business continuity solution keeps applications online by switching in a matter of seconds to a 4G connection and eliminating lost business due to Internet downtime.
The CradlePoint COR and ARC series have 3G/4G dual mode capabilities to enable deployment of a single solution for many company locations, leveraging 3G in locations where the 4G is not yet available. In addition, large deployments of the routers can be managed remotely using WiPipe Central, CradlePoint's cloud-based application and management platform, to monitor, configure, and upgrade geographically-dispersed systems without requiring on-site technical resources.
CradlePoint COR and ARC series routers with embedded AT&T modems are available from authorized distributors and resellers. To learn more, visit CradlePoint.com, contact CradlePoint at +1.855.813.3385 or email sales(at)cradlepoint(dot)com.
About LTE
Long Term Evolution ("LTE") is a mobile broadband standard produced by the 3rd Generation Partnership Project ("3GPP"), a partnership of several telecommunication standards bodies worldwide. The LTE standard features high data throughput, high spectral efficiency, and low latency, providing users with a high-quality voice, data, and video experience while allowing more users to share the same bandwidth. Visit http://www.3GPP.org for more information about LTE.
About CradlePoint
CradlePoint is the global leader in 4G/3G networking solutions providing business grade, secure connectivity to distributed enterprise, small business and mobile customers. With support for over 350 modems on more than 70 different carriers, CradlePoint defines excellence in connectivity. Specializing in failover, machine-to-machine (M2M), and primary connections, CradlePoint's solutions are purpose built for PCI compliant networks. CradlePoint is the first to pioneer and fully enable high-speed LTE in our solutions to maximize the potential of the cloud for businesses worldwide. CradlePoint is a privately held company in Boise, Idaho. Learn more at CradlePoint.com.