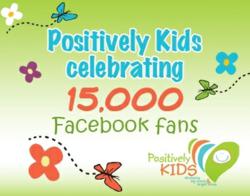 "Positively Kids in a simple, yet entertaining way, teaches our children and motivates them to think positively." Jayson Schlesinger Founder of LiveMotivated
San Diego, Ca (PRWEB) September 18, 2012
Positively Kids is giving away an MP3 of their latest song for kids "The ABC Song", in celebration of reaching 15,000 Facebook fans. In 2012, Positively Kids, the growing organization that prides itself on teaching kids the power of positive thinking, has more than one reason to celebrate. Last year with the release of an award winning music album, "Captain Positive: Be Happy" received a Mom's Best Award and a Creative Child Award in excellence. This year Positively Kids released the highly acclaimed song "The ABC Song" which is teaching kids "I am affirmations" through the alphabet. Parents, educators, psychologists, and caregivers are raving about the work that Positively Kids is doing. Kari Robinson, Blogger at Mommy to Elodie stated "Positively Kids is doing much more than just making catchy songs for kids- they are starting a movement that is based on valuing children and helping them to see their self worth and true potential"
The Positively Kids Facebook page is a strong community, where parents get tips for keeping themselves positive, in addition to teaching kids to be positive. The founder Stacey Crumrine stated "It's really important that parents can learn calming strategies and ways they can support themselves so they can be even better parents for their children. Children react based on how we react to things, so I really try to cater the Facebook page to not only things that help children, but the parents as well. I am so thankful to have such a wonderful community where everyone that wants to raise positive, happy kids can be connected"
Positively Kids keeps fans engaged by posting inspirational quotes for kids and parents; posting tips on raising optimistic kids, YouTube videos that have music for kids featuring their fun character Captain Positive. Danielle Simmons from Simmworks Family Blog raved "Positively Kids not only uplifts my children and their self-esteem, they also allow me to create a connection with my children and grow from their positive outlooks on life. Through the positive affirmations, amazing songs, and uplifting social media updates I'm reminded every day to stay positive."
Positively Kids has released several YouTube videos that have been extremely popular with fans. In 2011 the Sharing our Smiles Facebook contest, was a huge hit, where fans got to submit photos of their smiling children and was converted to a beautiful video showing how smiling is contagious. http://www.positivelykids.com/video/sharing-our-smiles-by-positively-kids/
Positively Kids through a multi-media approach via entertainment, offers games, music for kids and videos to watch and learn positive thinking. Karie Kaufmann from ActionCOACH has been a fan of the page since it's inception, Karie states "Positively Kids is a great tool for helping kids to build a healthy self-esteem and a positive attitude, in a fun way. It's also a great tool for the parents, helping us remember that how we talk to our children - and teach them to talk to themselves - matters"
Founder of LiveMotivated, Jayson Schlesinger, said "Positively Kids in a simple, yet entertaining way, teaches our children and motivates them to think positively."
Find out how to get the MP3 version of "The ABC Song" by clicking here--- http://www.positivelykids.com/recent-news/15k-facebook-fans-and-a-free-gift/
Become a fan of the Positively Kids Facebook page here https://www.facebook.com/positivelykids.dvd