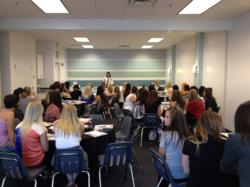 Salt Lake City, Utah (PRWEB) September 12, 2012
Derma Pen, LLC and the National Institute of Medical Aesthetics (NIMA) announced today it has signed a licensing and training agreement to include Dermapen Micro Needling treatments to their list of aesthetic services and training courses. Chad Milton, Co-Founder and President of Derma Pen, LLC commented, "The agreement was designed to both satisfy the growing demand by the aesthetician community in Utah to administer Dermapen treatments and for one of the country's leading aesthetic institutions to maintain its progressive education standards. One of NIMA's governing principles is to 'Regularly review and update curriculum to ensure that NIMA provides the most up-to-date and progressive education for students,' and I believe the Dermapen will help NIMA maintain this company ethos." The first of the NIMA Dermapen courses will be held September 29, 2012 at NIMA's state-of-the-art facility in South Jordan, Utah.
Micro-needling has long been one of the most effective methods of producing significant collagen remodeling and is an effective treatment option for all skin types and pigments, and has shown great clinical results in addressing wrinkles and fine lines, acne scars, stretch marks, keloid scars, alopecia as well as promoting wound healing and stimulation, skin tightening, lifting and rejuvenation. Dermapen is a revolutionary new method of micro-needling that offers consistent results through a safe and simple application.
The Dermapen delivers tiny micro-sized injuries to the skin. The Dermapen tip on the Aesthetician Model has eleven stainless steel micro-needles which can be adjusted from .25mm to 1.0mm, giving aestheticians an innovative skin therapy system that is designed to cater to individual patient needs. The unique spring-loaded needle tip uses an automated, vibrating stamp-like motion that enhances results while offering a more controlled and safer method of treatment than other micro-needling devices. Dermapen offers many advantages over leading alternative treatments because the unique automatic micro-needling function increases Dermapen's effectiveness while causing less epidermal damage sometimes caused by excess heat and light-based therapies.
The Dermapen device is very effective when used alone, but can be combined with other popular treatments like PRP therapy, IPL, laser resurfacing, micro-dermabrasion, and chemical peels, to name a few. This means that medical professionals can offer a truly customized skincare treatment plan for maximum results.
This procedure is virtually pain-free and treatments take only 20-30 minutes. Patients can expect the treated area to be red for the first 24 hours and virtually no down-time or side effects. Because this treatment does not involve heat, light or other energy, it is considered one of the safest treatments, with no risk of burning or scarring the skin. Results can be seen in only one treatment; however 4-6 treatments may be needed to see optimal results.
NIMA's Dermapen Certification Course is designed for both medical and non-medical professionals who will be performing or overseeing the Dermapen procedure. All aestheticians who intend to offer this service must be Dermapen-Certified before they are able to purchase the Dermapen equipment. This course includes certification on Dermapen proprietary protocols. Participants will receive a Dermapen, consumable needle tips and topicals upon successful completion of this course.
The new Dermapen Certification curriculum will set the standardization for aestheticians to extend their education to include micro-needling. It will allow new and existing aestheticians to become Dermapen-Certified. It will increase their opportunities and list of services.
NIMA offers a continuous education (CE) program and has opened up enrollment to multiple courses over the next few months to help past graduates become certified. NIMA's Dermapen Certification and CE course is open to all licensed aestheticians in the United States.
For more information about how Dermapen can benefit your patients, please call (800) 981-5402, email to Info(at)Dermapen(dot)com or visit us online at http://www.Dermapen.com.
About Dermapen:
Derma Pen, LLC is a cosmetic marketing company that trademarks, brands, and distributes cosmetic equipment. Dermapen, with its U.S. launch in 2011, is the world's most advanced skin micro-needling device. The Dermapen device and its products are sold directly to plastic surgeons, dermatologist, physician and medical spa markets. The device has been designed and manufactured with the cumulative effort of leading technicians and experts in multiple countries.
The market segments are defined as licensed aestheticians, medical spas and retreats, dermatologist offices and related cosmetic surgeon practices. According to new market research, the global market for cosmetic surgery services will reach the $40 billion mark by the year 2013, up from $31.7 billion in 2008, for a compound annual growth rate of 5.2%. In another study, the market for cosmetic surgery, facial aesthetics and medical laser devices is expected to almost double in size, exceeding $3 billion by 2017. Aesthetic laser and light therapy markets for skin resurfacing, hair removal and laser lipolysis are the fastest growing segments. In addition, market analysis provides a well-defined and unanswered need in stretch mark therapy. The new and innovative design of the Dermapen has been shown to answer the needs for the successful treatment of this problem.
About NIMA:
The National Institute of Medical Aesthetics (NIMA) is a leading provider in Medical Aesthetics certification. NIMA is accredited by the National Accrediting Commission of Career Related Arts & Sciences (NACCAS). NACCAS is recognized by the U.S. Department of Education as the national accrediting agency for medical aesthetics institutions. NIMA has financial aid options, and offers a wide variety of courses that lead to amazing careers.
Designed for non-licensed individuals as well as medical professionals to expand their current practice, NIMA has an extensive curriculum, including courses in the following:
Master Aesthetics, Laser Certification, Cosmetic Injections, Advanced Chemical Peels, Medical Directing, Eyelash Extensions, Permanent Cosmetics, Dermapen Certification.
With proven methods for success, Doctors, Nurse Practitioners, Physician Assistants, Registered Nurses and Master Aestheticians, as well as entry-level students, can all benefit from the clinical and business training offered at the National Institute for Medical Aesthetics.
For more information about NIMA, please call (800) 280-7109 or visit NIMA online at http://www.nima.edu.