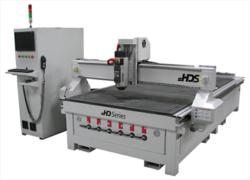 "Small Investment, BIG RETURN"
New Hyde Park, New York (PRWEB) September 26, 2012
Techno, Inc. CNC Routers is proud to introduce the new HDS Series CNC Router, a precision cutting system offered at industry shattering prices. Developed by Techno's engineering and manufactured using global state-of-the-art manufacturing techniques, this all steel constructed machine utilizes superior quality components such as THK rails and bearings.
The HDS features an industrial Osai Servo controller with high-powered AC servo motors and drives that provides smooth, powerful, fast, accurate motion and features the all so popular Techno user friendly CNC Interface that is easy to learn and operate. "The New HDS Series will offer a freedom to customers never offered before – we're confident customers will be cutting parts the same day power is connected," says Sales Manager, Roy Valentine.
Techno's HDS Series CNC Router is available in a range of sizes from 4ft x 8ft and up. It also features 12-hp HSD high frequency automatic tool changer spindle with multi-position tool holder rack, multi-zone vacuum t-slot table combination and material pop-up location pins. Techno continues its industry-leading developments and the HDS truly delivers on the Techno motto of "Small Investment, BIG RETURN".
NOTE TO EDITOR: You can pick up this release (and others) by using this secret deep link: http://www.technocnc.com/pr/ to download a .zip file containing an .rtf and high-resolution .jpg file