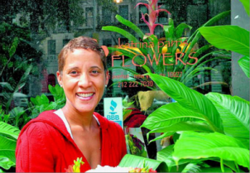 New York, New York (PRWEB) September 13, 2012
A New York-based flower delivery shop Katrina Parris Flowers will use next month's ten year anniversary to celebrate transforming their business in a tough economy. Katrina Parris Flowers has sold flowers, wedding, and business event design services to President Clinton, Marcus Samuelsson and others since 2002. Now, the flower boutique is using its event experience and intuition to meet today's cost-minded customers' needs.
"We are reinventing ourselves to suit what customers want, allowing us to weather the uncertain economy," said Mark, husband of Katrina Parris Pinn.
"We changed our business to become wedding specialists for smaller venues such as restaurants, and developed our online business to feature arrangements as flower delivery gifts, but also décor arrangement for events or lobbies." This seems to be working as they take their event style designs and deliver them online.
"Understandably, nobody spends huge sums on wedding or event flowers. You rarely see $20,000 projects." Brides and event planners seek creative solutions to do more with their budgets.
Today, Katrina Parris Flower delivery business presents over 65% of their overall business, compared to 20% a few years ago.
To help, they made website changes, including more variety in arrangement sizes and styles, and more useful information, so customers find what they need and get more from the purchase.
"We're thinking about our online presence not just as a catalog, but as a useful resource for everyone," Katrina said. They plan to feature interviews from experts in related industries.
"We want this to be an interactive experience." They plan to use the site to get a community started. They want readers to feel excited about updates from the company, not like they're being "sold to". It's about learning and staying connected with our customers," Katrina said.
In October, Katrina Parris Flowers is celebrating its 10th year in business. Stay tuned as they share more details on a huge flower give-a-way contest.
Katrina Parris Flowers
Featured in Oprah's O Magazine, Katrina Parris has been excited about flowers since she was a little girl tending to her garden with her father in southern New England. In 2002 she launched the boutique. Voted Top Ten Florist by Citysearch.com; Named "Best Bet" New York Magazine and Zagat Rated 27/30. Media Contact 212-222-7030 or info(at)katrinaparrisflowers(dot)com.