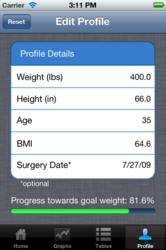 Thousands of people could end up using it. It's nice to know you can do something that can help that many people. -- Bucknell Senior and app creator Elaina Miller
Lewisburg, PA (PRWEB) September 13, 2012
Bucknell University and Geisinger Medical Center have teamed up to create a new app aimed at fighting a growing and costly epidemic in America: Obesity. The Centers for Disease Control and Prevention estimate more than a third of adults in America are obese. Medical costs tied to obesity climbed to more than $147 billion in 2008. Hundreds of thousands of people a year turn to surgery to help them lose weight.
"Surgery is one of the most successful, long-term and safe treatments for obesity," said Dr. Christopher Still, the director of Geisinger Health System's Obesity Institute. "And more importantly, bariatric procedures often address other serious medical problems associated with obesity such as diabetes, sleep apnea and fatty liver."
Two keys to a successful gastric bypass, which Dr. Still calls the most common bariatric procedure, are setting realistic expectations before the surgery, and patient accountability afterwards.
"Accountability is one of the most important factors of weight loss maintenance versus recidivism after gastric bypass," Dr. Still explained. "Whether it's going back to their surgeons, getting weighed each week or going to support groups, we know accountability is vital to long-term success."
To help patients both before and after surgery, Geisinger worked to develop a statistical algorithm that allows people to compare themselves to others who have gone through the procedure. Using data from about 2,500 gastric bypass surgeries performed at Geisinger, and validating it against more than 150,000 surgeries nationwide, the algorithm lets people supply basic information such as height, weight, and age to track their post-surgery progress. The program also allows people considering the operation to get a realistic view of how much weight they can expect to lose, or determine if gastric bypass is right for them. With the program in place, Geisinger needed a way to make it easily accessible and user-friendly.
"When Geisinger contacted me about developing a mobile application, I knew this was a big project and a great opportunity for some students to gain valuable experience," said Rick Zaccone, an associate professor of computer science at Bucknell University. Zaccone asked senior Elaina Miller and sophomore Yushan Zhang to spend the summer developing the app.
"When I first heard about the project, I was really excited," said Miller, a computer science major who also worked on developing the iBucknell App last summer. "Thousands of people could end up using it. It's nice to know you can do something that can help that many people."
Zhang, a computer science and engineering major from China, said an experience like this is why she decided to come to Bucknell. "I had never done anything like this before, but I really learned a lot. I actually feel like I wouldn't have had an opportunity like this in China," Zhang said. "That's why I came to Bucknell. I did a lot of college searching online, and Bucknell kept turning up as one of the best engineering programs in the country."
Their work started with sketches of what they wanted the app to look like. They met weekly with Dr. Still and his team to ensure everyone was on the same page when it came to the look, feel and functionality of the app.
"It's what we call, 'agile development,'" Zaccone said. "You are always adjusting as you go along to make sure that your expectations are in sync with what the customer is looking for. It was just part of the hands-on, real-world learning experience and I think it worked really well."
After about three months, the app was finished. It provides users with charts, graphs and an easy way to email their information to their physicians, or anyone else they'd like to share it with. The app, titled Get~2~Goal (an acronym for Geisinger obesity achievement log), just received approval from Apple, and is now available as a free download for iPhones and iPads. Dr. Still said Geisinger plans to continue working with Bucknell and use Get~2~Goal as a template to develop other apps that help address different medical problems, such as diabetes.
"Elaina and Yushan exceeded all of my expectations," Dr. Still said. "The fact that this came to fruition in 12 weeks is, in my mind, an amazing feat. They should be very proud. And from a clinical standpoint, I think it's going to be very, very helpful for patients who have either had bariatric surgery, or are considering it."