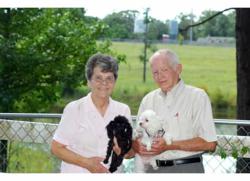 I always look forward to presenting this award to one of our Preferred Breeders. A heartfelt congratulations to Mr. and Mrs. Godwin for meeting all the requirements of the CKC Preferred Breeder Program, and then some. - CKC President
Evergreen, Alabama (PRWEB) September 12, 2012
Continental Kennel Club is pleased to announce the winner of the fifth annual CKC Breeder Merit Award. The 2012 Breeder Merit Award goes to CKC Preferred Breeder, Jeane Godwin, of Pampered Pups in Evergreen, Alabama.
The CKC Breeder Merit Award is an esteemed honor, recognizing the commitment and accomplishment of one outstanding CKC breeder each year. Award recipients must observe exemplary breeding practices in an effort to preserve, improve and promote their respective breeds. These practices include producing dogs in excellent physical health, maintaining meticulous records of breeding programs, and providing education and support to new puppy owners.
Jeane Godwin is recognized for her exemplary breeding practices with her breed of choice - the Toy Poodle. Her breeding program includes the selection and production of excellent breeding stock – being physically healthy, mentally sound, and of proper breed type. Puppies are raised in a stimulating, climate-controlled environment and receive veterinary care, exercise, socialization, and extensive "pampering" on a regular basis. Godwin begins basic puppy training with all of her puppies, so that each one has a basic understanding of housetraining and simple obedience commands before moving to a new home.
Godwin also recognizes the importance of educating and preparing new puppy owners to ensure that her puppies become life-long members of their new families. She is passionate about placing her puppies with new owners who will love and care for them properly. For this reason, she is very selective when choosing the new home and family that each puppy becomes a part of. She insists that new puppy owners understand the level of commitment that is required in order to take care of one of her "babies."
Jeane is the fifth CKC Preferred Breeder to win this prestigious award. She and her husband, Tom, have been CKC breeders since 2004 and were accepted into the CKC Preferred Breeders Program in 2008. Godwin also has experience in raising and training other toy breeds, but has chosen to focus her expertise solely on Toy Poodles. When asked why she prefers the Toy Poodle breed, she gave this heartfelt response, "My husband is a cancer patient, and the poodles are just the perfect size for him to handle, take care of, and love. They are little and 'need' him. Truth be told, he needs them too! In addition to all of that, they are such a loyal and smart breed, which makes them easy to train." Godwin is also passionate about canine rescue, serving as a member of her local Humane Society chapter.
Selecting the recipient of the annual Breeder Merit Award is a challenging task. The winner is chosen from members of Continental Kennel Club's Preferred Breeders Program, which combines practical guidelines with high breeding standards to produce quality canines. Mike Roy, President of Continental Kennel Club Inc., offered his personal congratulations to the 2012 winner by stating, "I always look forward to presenting this award to one of our Preferred Breeders. A heartfelt congratulations to Mr. and Mrs. Godwin for meeting all the requirements of the CKC Preferred Breeder program and then some." Godwin's breeding program is evidence of her dedication to the care, health, and quality of these dogs. Continental Kennel Club, Inc. applauds her hard work and appreciates her contribution to the Toy Poodle Breed.
The 2012 CKC Breeder Merit Award Presentation will take place on Friday, September 14 at 9:30 AM, in honor of Mrs. Godwin's outstanding achievement. The presentation will be held at L & N Depot, located at 100 Depot Square, Evergreen, AL 36401. Attending representatives of Continental Kennel Club, Inc. are scheduled to present Mrs. Godwin with the Breeder Merit Award at 9:30 AM.