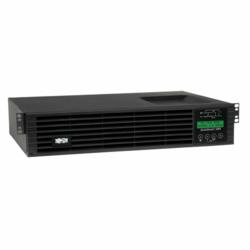 UPS power consumption can be reduced by an additional 40% by use of the UPS Systems´ economy mode
Chicago, IL (PRWEB) September 12, 2012
Tripp Lite, a world-leading manufacturer of power protection and connectivity solutions, has upgraded its SmartOnline UPS systems. The award-winning SmartOnline UPS series now includes models (ranging from 750VA to 3000VA) that deliver industry-leading efficiency with 0.9 output power factor for maximum capacity, a new LCD control panel to simplify UPS management and Tripp Lite's reputation for price leadership to maximize budgets. With online UPS efficiency in excess of 90% available for the first time in units of this size range, these five new models deliver the industry's best in power conditioning while saving operating costs.
These new UPS systems have up to a 0.9 power factor that allows them to support more equipment, delivering for example, up to 2700 watts in the 3000VA model. This means users require fewer UPS systems and circuits, resulting in higher overall facility efficiency.
Data Center and Network Managers can reduce electricity bills and promote corporate green initiatives with these new UPS Systems. UPS power consumption can be reduced by an additional 40% by use of the UPS Systems´ economy mode, further enhancing efficiency and reducing heat related cooling costs when power conditions are favorable. With the included PowerAlert software, users can define a schedule to balance energy efficiency and high performance operating modes as network needs change, or let the SmartOnline UPS decide its operating mode itself.
Key Features and Benefits:
-- Five models ranging from 750 to 3000VA
-- On-line, double-conversion operation with 2% voltage regulation and zero transfer time delivers clean power to equipment
-- High 0.9 power factor supports more equipment, making better use of existing circuits and infrastructure
-- LCD control panel with nine selectable screens indicating load, voltage, runtime, energy use and other information, allowing better power management of equipment
-- Two independently switched load banks allow remote reboot or programmable load shedding
-- Included PowerAlert Software monitors power conditions, controls UPS systems and automatically shuts down systems during a power failure
-- USB port, DB9 Port and SNMP/web interface for additional communication and monitoring options
For more information on Tripp Lite's new UPS Systems, go to: High Capacity, High Efficiency SmartOnline UPS Systems.
For product images, go to: Tripp Lite SmartOnline UPS image download.
About Tripp Lite
Outstanding product reliability and exceptional service have been Tripp Lite trademarks for 90 years. Tripp Lite's innovations include the world's first UPS system designed specifically for personal computers, and the world's most trusted premium surge suppressor--the Isobar®-with more than 18 million in use. Tripp Lite maintains the highest level of ready-to-ship inventory in the industry with more than 2,500 different products, including UPS systems, rack systems and cooling solutions, PDUs, PowerAlert software for enterprise- level system management and control, surge suppressors, KVM switches, cables and connectivity products, inverters, power strips and notebook accessories. Headquartered in Chicago, Illinois, Tripp Lite maintains a global presence with fully staffed offices worldwide. Additional information, including a list of Tripp Lite's sales offices and authorized reseller partners, can be found by visiting Tripp Lite's website: http://www.tripplite.com.