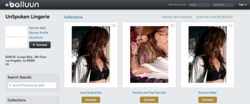 "Balluun has made it possible to express our brand identity, position ourselves and upload our collection with ease anytime, anywhere."
Foster City, CA (PRWEB) September 12, 2012
On the heels of a successful Balluun MobileTM announcement and WWDMAGIC signing up new emerging designers, the leading social business upstart, Balluun, today shared more detail as to how Balluun is changing the business lives of this design community.
"We had such a great time interacting with new and existing Balluun users, getting them up to speed on our Balluun's new mobile platform for iPhone and iPad during WWDMAGIC," said Peter Koch, Co-Founder & CEO of Balluun. "It's clear that our vision of a dynamic social marketplace for emerging designers, an easy environment for their business to be managed and thrive in the digital realm is on target."
Hear From Some Of Our Balluun Users...
"My company is called UnSpoken Lingerie, and we are Designers and Manufacturers of fine lingerie based out of Los Angeles, California. We are currently carried by some of the finest boutiques in Southern California and are looking for our brand's reach to grow
beyond the regional markets and expand internationally. We learned about Balluun through a network of Los Angeles-based fashion professionals (Fashion Business Inc.) and have been excited and pleased with the response and success our brand has experienced.
Balluun's iPhone and iPad apps are intuitive and users are empowered with apps to easily connect with other Balluun members and colleagues for business on the go and to share collections with. I really like the 'Showroom Mode' feature, especially for a high-end brand like ours, because it lets us show our vivid brand experience with our customers (in-person). The Balluun Mobile apps are completely consistent with the look and feel of the Balluun environment on the company's web site so there is no extra overhead or learning curve to get up and going. It's cool to have such transparency, ease of use and power on the go.
Balluun has made it possible to express our brand identity, position ourselves and upload our collection with ease. And to our delight, every day we receive more inquiries for purchase and connections from all over the country. We have received these leads and been able to present our line and brand so efficiently and cost effectively. We believe that Balluun will be able to help us gain sales profitably because of the platform and lack of overhead. Balluun enables us to present our company and vision in an upscale effective way."
UnSpoken Lingerie, President, Yolanda Dunbar
"We just got started on Balluun and are already receiving new leads at a steady pace, which is amazing. We are absolutely on the lookout for more connections from buyers and stores. This will be huge for us! The iPhone and iPad apps are great for busy designers and entrepreneurs. The apps are wonderful when you're on the go, since you can always check any new connection requests or order status updates from your mobile devices. I absolutely recommend the Balluun apps!"
Cidenzi Mori, Designer, Joel Watthanawongwat
"Balluun really opened our eyes to new marketing possibilities. We can meet buyers from all over the U.S. while still maintaining a personal connection. I would definitely recommend Balluun to other small businesses, because it really helps boost your company's reach to other partners. Balluun's new features have also really saved us time, so now we can really focus on developing A to Z's growing line!"
A to Z, Apparel Fashion Designer, Michelle Lateste
"I would definitely recommend Balluun to other designers. I feel it will grow to be a great tool. Other websites like this one almost take advantage of the emerging designer's need for exposure and connections. Balluun is the opposite and helps you grow."
Joneien Leah, Inc., Founder & Head Designer, Joneien Johnson
About Balluun
Balluun's mission is to empower fashion designers by lowering barriers to entry for emerging designers to launch their brand, sell their products to buyers and connect them online to create long-term relationships and healthy businesses. Balluun redefines a whole new way of conducting business by leveraging its roots in the information technology world (Cisco), commerce marketplace (eBay) and banking (UBS). The company has built a patent-pending social business platform dedicated to the unique needs of the fashion industry. With a guiding philosophy of connecting everyone and helping everyone to grow, Balluun is a company that is re-imagining how fashion businesses are created and managed with a technology-driven social business model. For more information and to sign up on Balluun, please visit: http://www.balluun.com.
Apple, iPhone, iPad, are registered trademarks of Apple, Inc. App Store is a service mark of Apple, Inc., eBay, the eBay logo, Cisco, the Cisco logo, UBS, the UBS logo are trademarks of their respective companies. # # #