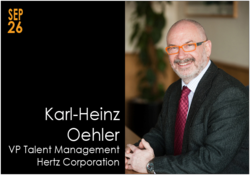 Karl-Heinz has pioneered leading edge global learning and talent management strategies in his role at Hertz Corporation
Corona, CA (PRWEB) September 11, 2012
Karl-Heinz Oehler, Vice President of Talent Management for Hertz Corporation will open the Strategy & Leadership track at the Enterprise Learning! Conference & Expo 2012, according to Joe DiDonato from the Elearning! Media Group (EMG). The session is being held on September 26th at the Hyatt Regency Irvine in California, and will give participants a chance to see how talent strategies differ when the talent management and learning functions report directly to the president.
"Karl-Heinz is a master at aligning learning, talent, and company strategies. I think the audience will gain a real insight into how the conversation changes when you're seated at the senior leadership table of a company," reported Joe DiDonato, Conference Chairman.
Karl-Heinz has pioneered leading edge global learning and talent management strategies in his role at Hertz Corporation, and in his session he is expected to discuss the innovative processes he uses to manage Hertz's human capital, as well as ensure strategic alignment with corporate goals throughout the enterprise. Mr. Oehler is expected to also outline the process for making fact-based talent decisions, left and right brain decision-making, as well as other techniques used by top companies when aligning learning, talent and company strategies.
Elearning! Media Group (EMG) is pleased to announce that they will offer learning professionals a free ELCE Pass to hear keynote addresses, as well as gain entrance to the exposition hall and innovation theatre. To get that pass, please go to http://www.regonline.com/ELCE_Register to register. Click on "Expo Pass" and enter the code "FREE" to be able to attend the conference. The number of passes available is limited.
About Enterprise Learning! Conference & Expo
In its fifth year, Enterprise Learning! Events bring onsite and online audiences together to learn, network and share. Enterprise Learning! Conference & Expo is the exclusive learning and workplace technology marketplace occurring on September 25-27th, 2012 Irvine, CA. ELCE hosts the Best of Elearning! Awards Luncheon and Learning! 100 Award winners. The Enterprise Learning! Conference & Expo Virtual edition is slated for November 8th, 2012. For more information about the Enterprise Learning! Conference & Expo visit http://www.elceshow.com.
About Elearning! Media Group
Elearning! Media Group is owned by B2B Media Group LLC and consists of eleven media products including: Elearning! Magazine, Government Elearning! Magazine, e-magazines, e-mail newsletters, Alerts, Web sites, Web seminars, the Enterprise Learning! Summit and Enterprise Learning! Conference & Expo. Elearning! Media Group serves the $160 billion enterpriselearning market. Suppliers and practitioners can follow us: online at http://www.2elearning.com, http://gov.2elearning.com; on Twitter: @2elearning, #ELCE12, #ELSummit; via Facebook: Elearning!-Magazine or LinkedIn: Elearning! Magazine Network or Enterprise Learning! Events.
About Hertz Corporation
Hertz is the largest worldwide airport general use car rental brand, operating from approximately 8,650 corporate and licensee locations in approximately 150 countries in North America, Europe, Latin America, Asia, Australia, Africa, the Middle East and New Zealand. Hertz is the number one airport car rental brand in the U.S. and at 119 major airports in Europe. In addition, the Company, has sales and marketing centers in 60 countries which promote Hertz business both within and outside such country. Product and service initiatives such as Hertz Gold Choice, Hertz #1 Club Gold®, NeverLost® customized, onboard navigation systems, Sirius XM Satellite Radio, and unique cars and SUVs offered through the Company's Adrenaline Prestige and Green Traveler Collections, set Hertz apart from the competition. In 2008, the Company entered the global car sharing market with its service now referred to as Hertz On Demand which rents cars by the hour and/or by the day, at various locations in the U.S., Canada and Europe. Hertz also operates one of the world's largest equipment rental businesses, Hertz Equipment Rental Corporation, offering a diverse line of rental equipment, from small tools and supplies to earthmoving equipment, as well as new and used equipment for sale, to customers ranging from major industrial companies to local contractors and consumers, from approximately 320 branches in the United States, Canada, China, France, Spain, and Saudi Arabia, as well as through its international licensees. Hertz also owns Donlen Corporation, based in Northbrook, Illinois, which is a leader in providing fleet leasing and management services.
To make car rental reservations or for more information, customers can call their travel agent, or call Hertz toll-free at 1-800-654-3131. Information and reservations are also available on the web at http://www.hertz.com. For information on Hertz Equipment Rental, visit the company on the web at http://www.hertzequip.com.