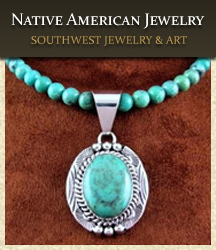 We've only been around a short time, but our commitment to low prices and authentic quality products has helped us become a popular destination for fans of American Indian jewelry
Scottsdale, AZ (PRWEB) September 13, 2012
Native American jewelry enthusiasts have a new online destination to find beautiful styles inspired by the tribes of the Southwest.
NativeAmericanJewelry.com offers a leading selection of American Indian styles to suit any taste or budget. Tribes like the Navajo, Zuni and Hopi inspire the jewelry visitors will find.
"With such high demand for Native American jewelry right now, we wanted to make sure we can help provide people with the most popular styles at a great price," said NativeAmericanJewelry.com Spokesman Steven Onida. "All of our jewelry reflects the craftsmanship and skill of American Indian artists."
The retailer has set itself apart from other online retailers by offering free shipping to all U.S. addresses and prices well below the industry standard.
"We've only been around a short time, but our commitment to low prices and authentic quality products has helped us become a popular destination for fans of American Indian jewelry," Onida said. "We expect that momentum to continue as more people learn about our products and commitment to customer service."
Native American Jewelry offers the opportunity for visitors to browse several styles and learn more about the tribes who create and inspire authentic American Indian jewelry.
To learn more about what products are available visit http://www.nativeamericanjewelry.com.