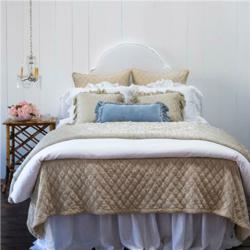 Bella Notte is fun to find under the Christmas tree!
Metairie, LA (PRWEB) September 14, 2012
The luxury bedding company Bella Notte Linens will continue to take orders throughout the year as usual; however, to ensure a delivery by Christmas orders must be received by Bella Notte Linens by October 15th, 2012.
Bella Notte Linens is a custom luxury linen company with hundred of combinations between their 28 fabric collections and 17 expertly designed colors. Each piece of bedding linens is custom made and dyed upon order, guaranteeing the highest quality available to customers. All of Bella Notte Linens' luxury linens may be purchased individually in order to create a one of a kind bed that is completely unique.
Earlier this summer, Bella Notte Linens announced the addition of 5 new fabric collections, each with multiple pieces, and 2 new hues to add to their designer color palette. All of Bella Notte's luxury bedding comes in all of their beautiful colors to suit any home decor or for creating and designing inspired rooms. The new collections by Bella Notte Linens are Amalie, Betty, Chesapeake, Davenport and Loulah. These luxury bedding collections range from soft, washed linens to lush, decorative velvets and everything in between. The 2 new colors for the year are Perfect Peach and Bordeaux, both looking exactly as one would think.
TheGardenGates.com is a top retailer of Bella Notte Linens as well as other home decor products including home fragrances, furniture, lighting and more. The online lifestyle boutique is also home to outdoor decor and patio furniture, women's clothing and jewelry and artwork by local New Orleanians.