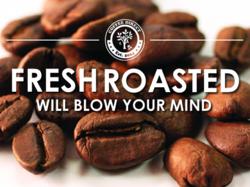 Such an ambitious food project on Kickstarter would scare most people, but we have confidence in our coffee!
Frenchtown, NJ (PRWEB) September 19, 2012
Coffee Bean Direct is excited to announce the launch of one of Kickstarter's most ambitious crowd funding projects in the food category. While most Kickstarter projects set their goal at $5,000 Coffee Bean Direct has the guts to go for $80,000. This is a risk – they will not collect a penny if the entire goal is not met by Saturday October 13th. Project creator Anthony Borthwick says "We have built our company's success by refusing to conform and we are confident we can pull it off."
Why Kickstarter:
Kickstarter.com is possibly the coolest thing to come out of the internet since the invention of the meme. Boasted as the "world's largest funding platform for creative projects," Kickstarter gives small businesses, artists, writers and musicians an opportunity to raise money in exchange for rewards. On Kickstarter people are not donating money, they're investing.
Coffee Bean Direct vows to never cut corners or sacrifice quality in an attempt to make money. The Kickstarter project "Coffee Geeks Need a Pouch Monster" is to buy a state of the art machine that will fill 1-lb pouches of coffee at a rate of 15 bags a minute. This will allow them to streamline the fulfillment process without sacrificing the hands-on control necessary to maintain standards.
How will Coffee Bean Direct raise $80K?
With creativity. The project is spearheaded by 3 fun unique videos that really show how much the folks at CBD love coffee… and how much they love their jobs. Rewards include never before available coffee flavors like Chipotle Chocolate (with real heat), Tahitian Vanilla and Black Velvet Bourbon. They have even hinted at a super premium coffee blending Hawaiian Kona and Jamaican Blue Mountain with real gold flakes. Investors can create their own signature flavored coffee from a list of 90 flavors and the coffee will be featured on our regular website. Investors can even choose a home roasting system and online roaster school.
More about Coffee Bean Direct:
Since 2004 CBD's goal has been to change the way America buys coffee - Offering fair prices to everyone and shipping the freshest coffee available direct to front doors everywhere. A modern looking but neatly organized website allows customers to easily and quickly browse a staggering variety of over 300 products. Determined to stand out from the crowd, Coffee Bean Direct offers products that no one else does. They are the only company to sell smoked coffee – freshly roasted coffee smoked by award winning smoked food artisans – and they were the first company to offer Pumpkin Chai Tea. Other varieties like Maple Bacon Flavored Coffee and Sea Salt Caramel Mocha show a commitment to being ahead of the trends in food and beverage industry.