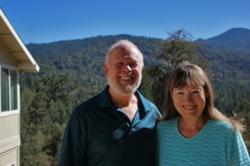 The best part of running a B&B is meeting and visiting with our guests. Like Eckert, a guest from Germany said, 'It's like taking a trip around the world without leaving home'
Oakhurst, CA (PRWEB) September 11, 2012
A popular bed and breakfast near Yosemite is under new ownership.
Steve and Mary Kay Eicholtz took over A Bed of Roses bed and breakfast earlier in the year and have been making numerous changes to the property.
Although taking over the property has proven to be a lot of work, the couple say they are having the time of their lives.
"The best part of running a B&B is meeting and visiting with our guests. Like Eckert, a guest from Germany said, 'It's like taking a trip around the world without leaving home,'" said Steve.
While it was at first difficult for the couple to move from their home in Fresno to the mountains, they were soon glad for taking the leap.
"Many factors came together to make us consider owning a Bed & Breakfast. Nearby family, semi-retirement income, the opportunity to meet people from all over the world, the serenity of the property, and an awareness of God's drawing us to this area all contributed to our decision to buy," he said.
Located just north of Oakhurst about 10 miles from the southern entrance to Yosemite National Park, the property enjoys panoramic views of the Sierra Nevada mountains while the rooms offer comfortable and stylish décor to make for an idealistic, romantic setting.
"With the altitude somewhere around 4:30 in the summer the shadows come on makes for very comfortable afternoons," he said.
The pair just announced new lower fall rates at the property that are effective immediately. To learn more about the property, visit http://www.ABedofRosesYosemite.com.
Oakhurst is located about 13 miles from the southern entrance to Yosemite National Park. The southern entrance, Highway 41, is the most popular gateway in to the scenic park. Yosemite attractions accessed via the southern entrance include The Mariposa Grove of Giant Sequoia, Wawona, the road leading to Glacier Point and Tunnel View.