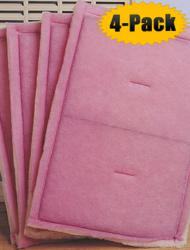 Chicago, IL (PRWEB) September 12, 2012
Cooler months are on their way, which for millions of Americans means preparing to turn on the heat. Furnace maintenance starts with having a clean and efficient furnace filter. It's important to take care of furnace filters to make sure that they work properly when the time does come to turn on the heat. Allergy Asthma Technology now provides high quality furnace filters that are more efficient, only having to be replaced every three months as opposed to once a month.
The purpose of a furnace filter is to keep particles from escaping into the rest of the home or building, and to keep large particles from entering as not to damage the furnace. According to furnacefiltercare.com, the average person breathes in about 32,000 pints of air every day. Within those 32,000 pints are over one billion particles of dust. Also, the EPA suggests that indoor air can be up to five times more polluted than outdoor air. Therefore, furnace filters are extremely important, especially for those with allergies and asthma.
There are different types of furnace filters to choose from. Most households use the inexpensive disposable filters that last for a month. However, most forget or do not have the time to replace filters every single month. Allergy Asthma Technology's filters are a little bit more expensive than the previously mentioned filters; however, they last for three months rather than one, making them the less expensive choice in the long run, costing less money overall.
Allergy Asthma Technology's AllerTech Furnace Filters are made of three layers of sturdy material that allows air to flow through vents without it being contaminated with dust particles, pet dander and other allergens. Typical furnace filters contain cardboard or metal edges that let contaminated air escape from the sides of the vent. Allergy Asthma Technology's furnace filters prevent that situation from occurring, making for a cleaner interior atmosphere. The material they are made of prevents mold from forming, which can also affect a person's allergies and asthma.
Households that contain at least one smoker should really have furnace or vent filters to help generate cleaner air throughout the house. Unseen smoke dust/particles float around the interior atmosphere and are breathed in by humans. These particles can build up in the lungs to cause asthma and other illnesses. Also, bacteria and virus particles can reside in the air, leaving members of the household to become easily susceptible to airborne illnesses. Allergy Asthma Technology's furnace filters provide a safer interior environment for those living in the home, including pets. Let Allergy Asthma Technology help you live a healthier lifestyle.
ABOUT ALLERGY ASTHMA TECHNOLOGY
Located in Morton Grove, IL, Allergy Asthma Technology has been helping allergic and asthmatic individuals by providing products to help with symptoms since 1971. The company continually searches for medically approved allergy and asthma products that will help their customers lead a healthier life. The company offers all types of anti-allergen products from allergy free bedding to UV sanitizing wands. Allergy Asthma Technology is dedicated to helping enhance their customer's quality of life by providing important information, premium products, and quality customer service.