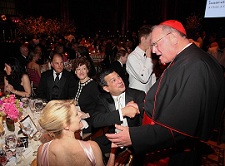 New York (PRWEB) September 12, 2012
Mitch Vazquez, an ardent philanthropic donor, supports the global arts and culture philanthropy that aims to preserve the famous art objects of the highest quality and, in addition, focuses on coherent work groups.
"Mitchell Vazquez is a very well known personality in the whole of New York and also known to be a very humble and a kind person who has now extended his helping hand for the Global Arts and Cultural Philanthropy," said a spokesperson on behalf of Mitch Vazquez.
The Ludwig foundation came forward with this cause that strives to collect individual works of art. Areas of special international reputation include the collections of works by Pablo Picasso ranging from 1904 through 1972, the Russian Avant-Garde from 1910 through 1930, as well as contemporary art originating from the former German Democratic Republic, the USSR and other Eastern European countries. This foundation purpose is realized in particular through the acquisition and administration of art objects, including the organization of exhibitions and the promotion of loans to public exhibitions, as well as through the financial support of the acquisition and maintenance of works of art and the promotion of exhibition activities.
Mitchell Vazquez completed his education without any financial support from family. He did it through a scholarship, student loans, and part time work. He is very active humanitarian and impartially respects and offers aid to wide range of regional causes. To know more about the other causes he supports log on to http://www.mitchellvazquez.com.