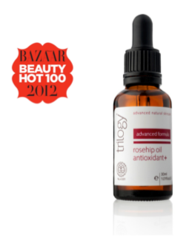 Best Natural Face Oil. Harper's Bazaar Beauty Hot 100 2012.
New Zealand (PRWEB) September 13, 2012
It is the third consecutive year Trilogy rosehip oil has made the coveted annual ranking, with the latest addition to the Trilogy rosehip collection achieving recognition just six months after launch.
Led by respected Beauty Director Newby Hands, the Beauty Hot 100 identifies the Harper's Bazaar team's selections of the best 'truly amazing' products on the market today.
The magazine describes Trilogy Rosehip Oil Antioxidant+ as:
"Packed with skin-protecting and repairing antioxidants, this is good enough to be put on prescription. From improving scars to giving dull, dry skin a new softness and a rosy glow, this is our secret miracle oil."
The unique Rosapene™ formulation in Trilogy Rosehip Oil Antioxidant+ combines super antioxidants lycopene from tomato and phytosterol from acai with essential fatty acids from cranberry and rosehip oils.
Recent independent clinical studies showed Trilogy Rosehip Oil Antioxidant+ delivers significant and measurable improvement in skin tone, brightness, wrinkles and elasticity (1).
For 'Ten Beautiful Years', Trilogy has promoted the remarkable skin-renewing benefits of Certified Organic Rosehip Oil, with previous clinical studies showing it improves the appearance of scars, stretch marks and wrinkles. New certified organic Trilogy Rosehip Oil Antioxidant+ harnesses these benefits and adds high level antioxidant protection to deliver an innovative, proven effective beauty oil for today's world: the 'everything-your-skin-needs' beauty oil.
Trilogy Rosehip Oil Antioxidant+ (30ml)
1. Independent clinical study. Twice daily use - 12 women - 8 weeks - Rosehip Oil Antioxidant+. Expert clinician grading.
STOCKISTS: Trilogy products are available from http://trilogyproducts.com.
EDITOR'S NOTE: Trilogy is a high performance natural skincare range from New Zealand winning awards and fans around the world. Designed around the trilogy of simplicity, purity and vitality, Trilogy skincare and hair care products contain unique blends of certified organic rosehip oil and powerful botanical actives for results you will see and feel.
With a strong commitment to environmental, ethical and social responsibility, Trilogy's philosophy is 'maximum effect on your skin, minimum effect on our environment'.
facebook.com/trilogyproducts
@TrilogyProducts
For further information, images or interviews please contact:
Lisa Wilson, International Communications, Trilogy
E: lisa [at] trilogyproducts [dot] com