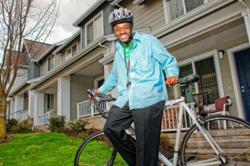 Pulling together a $15,000 matching grant campaign in weeks was challenging and fun.
Portland, Oregon (PRWEB) September 13, 2012
How can social media be used to support community initiatives? In just 10 quick days, students from Oregon College of Art & Craft and Pacific Northwest College of Art transformed a vacant lot into a beautiful bike repair space at New Columbia. Made possible with support from Bikes Belong, the Coon Family Foundation, the Portland Development Commission, the Bike Gallery, and dozens of other businesses and individual supporters, including an online donation plaform by CafeGive, the project's construction culminated in a ribbon-cutting celebration on Wednesday, September 5th.
The team behind the fundraising, the Community Cycling Center, The Bike Gallery, Samantha Swaim Fundraising and CafeGive Social, made the fundraising go as smoothly and quickly as the construction of the Bike Repair Hub. "Pulling together a $15,000 fundraising matching grant campaign in weeks was challenging and fun. CafeGive Social's Make the Match app was a cornerstone to our success because it helped us raise more funds faster on Facebook and the web," said Breesa Culver, Development Director for Community Cycling Center.
The entire Hub design and construction process was inspiring to watch. Members of We All Can Ride, the resident-led bike committee, were the driving force behind the project, and provided inspiration and feedback during the design process. Community members showed up in droves to the ribbon-cutting event with their bicycles, many needing flat tires repaired. Excitement filled the air as everyone admired the new Bike Repair Hub. Families worked together, learning how to patch flats and other basic bike maintenance lessons. Residents demonstrated a clear need for bike repair and a strong desire to learn more about bikes in order to continue riding with their friends and families.
"This is about three things: health, community, and empowerment," said Charles Robertson, We All Can Ride leader. Charles is a community health worker and he believes there is a strong connection between the work at Village Market, Village Gardens, The Charles Jordan Community Center, and now the new Bike Repair Hub – each organization shares a similar vision of building a healthy community at New Columbia. "If you need fuel, you can go to the Market. If your bike breaks down, you can come over here so that we all can ride."
"It's going to be a great meeting point for the kids," said Michelle Hanna, a ride leader from We All Can Ride who had the honor of cutting the bike chain ribbon at the celebration. "It will encourage biking, which of course leads to better health! Hopefully it will show the community how much we all care and want the best for all of us."
The funds raised on social media, using CafeGive Social tools, enabled both the Bike Gallery and Community Cycling Center to reach out to their supporters and customers and tell the story of what this center could accomplish from a unique perspective. The tools enabled dozens of online donations, many under $25, that added up quickly, enabling operation of the center. Donations were matched with a $5000 donation from The Bike Gallery.
About CafeGive
CafeGive connects businesses, causes and the people who care about them through social media applications. CafeGive Social is a set of cause marketing apps used by businesses, agencies, and nonprofits to create branded cause marketing campaigns on Facebook and other social networks. CafeGive social' rich storytelling and giving platform showcases and encourages donation stories, promotes charitable works or cause marketing programs while building consumer awareness and loyalty. CafeGive is headquartered in Portland, Oregon. For more information visit CafeGive. http://www.cafegive.com