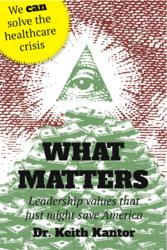 Dr. Kantor outlines no-nonsense, cost-effective strategies to restore America's good health and fiscal soundness in What Matters: Leadership Values That Just Might Save America
Atlanta, GA (PRWEB) September 12, 2012
Service Foods, a leading provider of all-natural, high-quality organic food for home delivery, is pleased to announce the release of CEO Dr. Keith Kantor's latest book, What Matters: Leadership Values That Just Might Save America (Effective Press, 2012).
In his new book, Dr. Kantor contends that the current structure of America's healthcare system is bankrupting our country, threatening our global prosperity and weakening our world leadership by focusing on disease and accident management. What Matters reveals that despite the massive $1.8 trillion Americans spend on healthcare each year, we are still faced with soaring rates of arthritis, diabetes, heart disease, hypertension and obesity.
In an effort to stop the downward spiral of our healthcare system, Dr. Kantor uses What Matters: Leadership Values That Just Might Save America as a blueprint for how both policy makers in Washington, D.C., and ordinary citizens can save our country hundreds of billions of dollars per year over the next decade all while preventing debilitating, chronic illnesses.
Citing powerful research and his own knowledge as a doctor of nutritional science and naturopathic medicine, Dr. Kantor outlines no-nonsense, cost-effective strategies to restore America's good health and fiscal soundness in What Matters. His experiences growing up in the Bronx and his background as an award-winning entrepreneur, innovator, business leader and Marine Officer also give him a unique perspective on the intriguing relationship between food and the current state of the American healthcare system. Additionally, the CEO offers insights and advice on being more effective in business and in life.
"What Matters is a leadership book and call to action Dr. Kantor built over decades of in-the-trenches experiences and a ringing passion for America, backed by values imparted to him by his parents," says John Snyder, owner of Effective Press. "We had to bring it to readers and believe it's powerful stuff that will help businesses, families and anyone who wants to live longer and healthier, and keep more of their money while doing it."
What Matters: Leadership Values That Just Might Save America is available now in print and for Amazon e-readers. Net proceeds from the sale of the book are being donated to the American Diabetes Association, The Natural Products Association and the All-Natural Food Council of North America.
About Effective Press
Effective Press seeks leaders from all fields who have stories to tell of their success, their vision and their plan for a stronger, more productive and more prosperous America. The company is a one-stop-shop for expert manuscript preparation, including research, organization, writing and editing, for print and e-reader distribution. For more information, visit EffectivePress.us.
About Service Foods
Service Foods offers a full line of all-natural foods free from growth hormones, preservatives, steroids, antibiotics and colorings. The company provides free delivery directly to customers' homes. In addition, dietitians, nurses, doctors, dentists and fitness experts are on staff to counsel clients in leading a healthier lifestyle. Service Foods has been in business since 1981 and is based in Atlanta, Georgia, with warehouses in several states. To learn more about Service Foods, Inc., visit ServiceFoods.com.