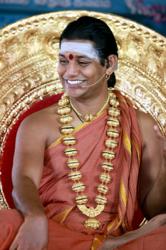 Los Angeles, CA (PRWEB) September 13, 2012
His Holiness Paramahamsa Nithyananda blessed all the participants of "THE Samyama' process, to live like Gods and Shivaganas, living a complete Niraahari life (people who live without solid food) proving to the world the strength of feeling connection and the power of initiation of an enlightened Master. He said the next 'The Samyama' would accommodate participants in any language, and anyone who wanted to repeat 'The Samyama' are also welcome. All Samyamas at Nithyananda Dhyanapeetam would be a free offering from Paramahamsa Nithyananda to the world.
All participants expressed their deep gratitude to His Holiness Paramahamsa for liberating them from thousands of patterns related to food and food related habits and diseases associated with it. The common denominator among all participants of the 21 Day The Samyama process, was their amazement and joy at feeling highly energetic, active and flexible with no temptation for any food even if they walked by aromatic cuisine in the 5 star resort.
One of the participants from Bangalore mentioned how food was his biggest enemy from childhood. and he would fight with people if he did not get food on time. Recollecting how in just 3 weeks he was able to go beyond his pattern of taking food till his stomach felt full and feeling sleepy and very dull right after, he said, it was affecting his day to day work and everyone advised him to take less quantity of food. Now in 21 days he is living without food.
"After 1st week, I looked at a sandwich and thought it is a nice artwork. I have no desire to eat any food at all. No hunger. I don't even know what is hunger. The patterns are being broken. habits are being changed. It is his grace that I don't eat food to survive. We are alive. We are taking in food from the prana, from ether and that's how we are nourished. 21 days, no food, working normal, yoga, so much energy. Thank You Swamiji, this is such an amazing happening for a wonderful auspicious life." - Prasaadita from Ohio.
Another participant from India who has been suffering from diabetis and blood pressure for the past ten years said she was liberated from sugar and blood pressure problem in just 21 days. Now she feels more energetic and attributes it to the enlightened Master's initiation.
Several other participants who were overjoyed, included those who were healed from ulcers, heavy back pain, excessive fat in the liver and many other health problems. They smile now on seeing the 5 star resort food, and still let it go by without a thought of eating crossing in their minds. Many could not be without food even for a single day, but now in the loving compassionate energy field of the enlightened Master, they are ready to spend the rest of their lives without food and carry on their normal life style. Now they have added yoga and different creative projects to their daily routine.
No hunger, no tiredness, no laziness, more flexibility and stable mind seemed to be the theme song of the participants who successfully completed the 21 day THE Samyama process. THE Samyama is a program conducted by Dhyanapeeta Charitable Trust.
The first level of the next Hunger Free Samyama will start on Sep 12th for the new group of participants. Participants who are interested and are above 18 years can join on 2 way video conferencing for the daily initiation and meditation from 6:30PM to 9:30PM Pacific Time.
For 2 way video conferencing subscription: please visit... http://nithyananda.tv/nayana-deeksha-subscription-page/
For more details please visit: http://www.nithyananda.org/events/nirahara-samyama-level-1-2012-sep-12 or please click on: http://tinyurl.com/8g9ydwa
Video on Introduction to Hunger Free Samyama: http://www.youtube.com/watch?v=D-RuZPB8aFY&feature=related
About His Holiness Paramahamsa Nithyananda
A spiritual genius with an enlightened insight into everything from management to meditation, from relationships to religion, and from success to spirituality, Paramahamsa Nithyananda brings to us a wealth of practical wisdom, meditation techniques, kriyas and tools for lasting inner transformation.