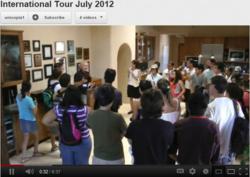 Santa Fe, New Mexico (PRWEB) September 12, 2012
English as a Second Language (ESL) provided the synergistic backdrop for the very global topic of green building, energy efficiency and sustainability. The various students, from Italy, Switzerland, Mexico, Honduras, Peru, Ecuador, Brazil and Chile, appeared especially engaged when Unicopia Executive Director, Faren Dancer, mentioned "sustainable thought". His premise for how, in unity, world citizens might bring forth a future that is enduring and prosperous, appeared to kindle an awareness that transcended the cultural divergence. With a focus on solutions, and an attitude of appreciation, the grassroots movement toward sustainability is taking hold in many countries around the world, and these students appeared eager to bridge the cultural gap with an expressed desire to share their experience upon returning home. Unicopia, a Santa Fe, New Mexico, based non-profit organization, is featured on SantaFe.com in the website business section.
Unicopia Associate Executive Director, Maxine Swisa, the current ESL instructor for the Laureate Education program, conceived this opportunity for the students to embrace English through the context of green building, energy efficiency and Earth stewardship as a universal concept that transcends all cultural barriers. Throughout the tour of the center, also known as the "Emerald Home", the students learned the tangibles of energy efficiency, water efficiency, resource efficiency, indoor air quality and site impact, while actively engaging in the educational outreach that helps quantify green building. The students were also enamored by the universally embraced concept of receiving a monthly check "from" the utility company, one of the rewards granted a home that produces more energy than it uses.
The sense of camaraderie shared by this diverse group of young enthusiasts helped set the tone for a day of sharing, laughter and connection that symbolizes the mission of Unicopia. As an international agent of knowledge, expanded awareness and the synergy required for bringing together a world population, this particular day revealed a promising future, indeed.
About Unicopia:
Unicopia is dedicated to the educational outreach on sustainability issues, with efforts toward minimalizing greenhouse gases in the building sector and alternative means of producing energy that includes the move away from coal generated electricity. These focused efforts, along with getting the word out on local organic food production, water conservation, environmental protections, sustainable education in the our schools, grassroots activism and the promotion of our cultural evolution through expanded consciousness, describes Unicopia's dedication to our sustainable future. The principals involved have spent decades in preparation for imparting the knowledge and awareness that is the core mission of Unicopia.
Contact information:
Faren Dancer
Executive Director, Founder
Email: faren at unicopia dot org
Maxine Swisa - Associate Executive Director
Email: maxine at unicopia dot org
About SantaFe.com:
SantaFe.com provides locals and visitors to Santa Fe alike the most current interactive platform for events, music, arts, business, dining and lifestyle. SantaFe.com is a division of Hutton Broadcasting, located at 2502 C. Camino Entrada, Santa Fe, NM 87507
Contact Information:
Scott Hutton
SantaFe.com / Hutton Broadcasting
http://www.santafe.com
(505) 471-1067 (Media inquiries only, please)