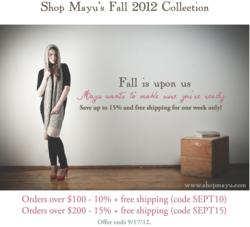 Chicago, IL (PRWEB) September 14, 2012
Wrap up in Andean inspired luxury scarves and accessories, made of the purest alpaca fiber, authentically hand knit in Peru!
To celebrate the launch of its Fall 2012 Collection of alpaca hats and scarves, Chicago-based company, Mayu, is offering shoppers an exclusive offer valid through Sept. 17, 2012. As Mayu's founder, Kate Robertson, explains, "This limited offer is a great opportunity for fashion forward customers to get a head start on Winter wardrobes. Once customers test the products, they typically come back for more so this is the perfect time to give the alpaca scarves and alpaca hats a try and see if they are worthy for Christmas and holiday gifts."
To promote the new collection of accessories knit in rural Peru, over the next week, Mayu customers will receive up to 15% off all orders and free shipping. All orders over $100 will receive a 10% discount and free shipping (coupon code SEPT10) and all orders over $200 will receive a 15% discount and free shipping (coupon code SEPT15).
About Mayu: Mayu is hand-knit, pure Peruvian alpaca goodness -one hundred percent. Mayu is also a member of the Fair Trade Federation and was founded as a result of the founder's experience in the Peace Corps in Peru.
100% pure alpaca. 100% hand-knit. 100% peruvian. 100% good.