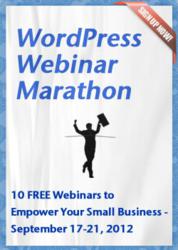 The new WordPress Learning Management system has launched on the company's website and is being released along with a new instructive course entitled WordPress for Business, which will be held via webinar beginning on October 1st
New York, NY (PRWEB) September 17, 2012
WP Academy, the leading provider of WordPress training, has announced the launch of its new, revolutionary WordPress Learning Management System. The new system has been designed as the world's first true WordPress and Web-Based Marketing Help System. The "Help System" serves as a format for the delivery of technical documentation that users are familiar with, and consists of a table of content with hyperlinked, searchable topics. The new WordPress Learning Management System has launched on the company's website and is being released along with a new instructive course entitled WordPress for Business, which will be held via webinar on October 1st.
According to a statement released by WP Academy CEO Marc Beneteau, the company's new WordPress management system is more than just a tutorial, but a comprehensive training system for business owners that will helps users create a business website including features such as email marketing, online video, SEO, payment gateways, shopping carts, membership systems and more. Beneteau goes on to say:
"There have not been any successful attempts to create a comprehensive WordPress training system that would provide both sequential learning and random searches for all the issues that your average business user is going to encounter in attempting to create their own website and implement an internet marketing program. For the first time, we are making powerful technologies such as WordPress really usable by ordinary people, people who have no previous web design, web marketing or technical background."
In addition to the launch of the new WordPress training system, the company offers live courses three times a year that provide a blend of instruction, one-on-one and group coaching, hosting, support and insight on components of website development. Interested users can sign up for the company's next WordPress for Business course at http://wpacademy.tv/.
The course will begin on October 1st and be preceded by a week of free, highly informative and relevant presentations taught by world-class WordPress authors and experts. To sign up for this free week of professional insight, known as the WordPress Webinar Marathon, interested subscribers can sign up at http://wpacademy.tv/free-wordpress-webinars.
The new WordPress Learning Management System can be accessed online here.
To find out more about the new WordPress training program and about the services provided by WP Academy, visit the company online at http://wpacademy.tv