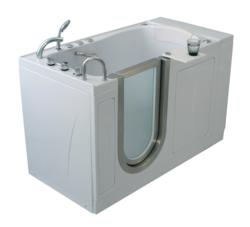 This study will help us further understand the correlation between warm air hydrotherapy treatments and the many health benefits it can offer.
Denver, CO (PRWEB) September 12, 2012
Aging Safely, a distributer of walk in tubs for individuals with limited mobility, is proud to announce that they are offering customers the opportunity to participate in their "Live Well Hydrotherapy Study." Customers who volunteer to participate in this hydrotherapy study will seek to use their hydrotherapy walk in bathtubs to help heal injuries and alleviate pain. The volunteers will do hydrotherapy treatments three or four times a week for one year. Physicians will approve participants and monitor their vital signs during the study. Using walk in bathtubs permits geriatrics and physically challenged volunteers to enjoy the benefits of hydrotherapy.
According to the American Cancer Society, hydrotherapy is beneficial for relieving aches, increasing circulation and promoting relaxation. It involves using water to heat and cool the body. Patients can use walk in bathtubs to change their body temperature and receive the soothing, therapeutic benefits of hydrotherapy. The American Cancer Society recognizes that hydrotherapy can reduce inflammation from burns, alleviate aches due to rheumatoid arthritis and make other injuries less painful.
The Centers for Disease Control and Prevention (CDC) reports that "one in three adults over 65 falls each year". Additionally, "20% to 30%" of those adults incur injuries that restrict their mobility. Another CDC study indicates that arthritis is more prevalent as people age. Given the high number of elderly people with injuries or joint pain, hydrotherapy tubs can improve their comfort and make it easier to relax. Aging Safely is excited to be offering a study that will monitor the effectiveness of hydrotherapy tubs to reduce inflammation and improve customers' health.
Aging Safely's "Live Well Hydrotherapy Study" will allow the company to better serve its customers by analyzing how hydrotherapy potentially helps them heal. The Warm Air Hydrotherapy Study will help keep Aging Safely abreast of the effectiveness of hydrotherapy technologies.
Aging Safely provides cost-efficient, walk in tubs throughout the United States and Canada. Customer service representatives can recommend a safety product or tub for your situation. Contact Aging Safely to participate in the hydrotherapy study. Aging Safely's representatives are available to answer inquiries about the company's tubs, bathtub lifts, bathtub installations and other bathroom safety products.
Zach Wennstedt
Aging Safely Baths & More
P.O. Box 270696
Louisville, Colo. 80027
1-888-779-BATH (2284)
info(at)agingsafelybaths(dot)com