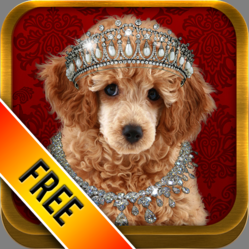 Belfast, ME (PRWEB) September 12, 2012
Of the 6-8 million animals being cared for in shelters, 3-4 million will be euthanized this year. How can more of these animals find "forever homes? Mobile app development company, Cat Game Apps, LLC thinks more engaging images are the key and they have just released a mobile app called Pet Royals that makes it easy to create eye catching pet photos.
Pet Royals uses the camera function is mobile devices and includes a variety of royal accessories that can be added to the images such as crowns, jewels, glasses and hats. Users take a photo of and animal's face with their iPhone or iPad, choose the accessories they want to add to the photo and then adjust the size, orientation and position of the accessories using their fingers. If it looks like the pet has something to say, text bubbles can be added to the images, too.
"We wanted to bring attention to these animals in a fun and entertaining way," explains developer Tim Wilson. "Every shelter we talk with mentions the importance of good photos in increasing adoption rates. They also tell us how difficult it is in our advertising intensive culture to get people to look at their pets. Our conclusion is that it is not just about getting great pictures of the animals as much as it is about creating attention getting images that get people to actually look. Pet Royals photos can make the pet page in the newspaper fun and entertaining which in turn creates an atmosphere of fun and humor around the shelters and their animals" adds Wilson. "We think that creating this warm emotional environment around entertaining pet photos will help get more animals adopted."
When users are finished updating their image, they can save it to their camera roll, email it, share it on Facebook, or Instagram or post it as a meme on Pinterest. "This can make a shelter's social media efforts and blog posts much more interesting without spending a fortune" says Wilson. "The photo can be uploaded to Shutterfly to make thank you cards, donation reminders or fundraising event invitations, too."
Tim, and his Cat Game Apps co-founder and wife Amy Robbins-Wilson, have been using the app to raise money for local organizations that benefit animals. "This app is a great way for shelters to raise money. With an apple device and Pet Royals, shelter volunteers can set up a fundraising table and give passerby pets 'the royal treatment' for a donation" says Wilson. "We've found that two volunteers with an iPad can raise $30 per hour or more at shelter walks or other benefit."
Tim and Amy will be giving pets the royal treatment for a donation at three upcoming pet events in Maine. The Whisker Walk in Rockland on September 15th, The Paws on Parade Walk in Bangor on October 6th, and the Paws in the Park Event in Portland on October 7th.
"We hope that shelters and other pet lovers will use this app to have fun and to benefit organizations that care for shelter animals" says Amy. "It really is as simple as setting up a table, taking and decorating photos of animals and then asking for a donation for the shelter. Best of all, it is so much fun!"
The basic version of Pet Royals is free and is currently available on iTunes for iPhone and iPad. Cat Game Apps LLC develops mobile apps for pet owners and the lighter side of life.