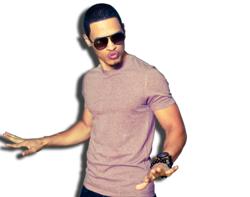 The kid has chops… discover a voice just as smooth…silky…
~ Felipe Delerme/The FADER magazine
Chicago, IL (PRWEB) September 14, 2012
KENTRELL. Remember the name. He is an artist whose time has come! The emerging star is back to display his brilliance and is ready to impact the entertainment arena with his own brand of "Pop-Soul".
EnKentrol Music and Mathaus Entertainment announces the formation of a partnership that is sure to be a force in the entertainment business for years to come. EnKentrol, an enterprise started by KENTRELL, is teamed with Mathaus and is focused to assure a successful merger.
The self-assured singer-songwriter is working at his craft, fine-tuning, and delivering songs which manifests in the soulful prominence heard in his melodic voice. Music has played an integral part in the soundtrack of his life. His vision is the product of exposure to a vast genre of music that shaped his pivotal years.
KENTRELL has taken cues in artistry from Prince, Michael Jackson, R. Kelly, James Brown, Marvin Gaye, Usher…..superstars of influence. The Chicago based, Mississippi born crooner is excited and energized to return to the spotlight and is ready to take center stage with the elite pantheon of entertainment legends.
KENTRELL gained early attention with a major record deal with Jive Records (since absorbed into the RCA brand). Rewind to 2009. The dynamic entertainer made an impressive chart debut with "Encore" at #39 in the music trade industry magazine Billboard, resulting in a top seller on iTunes.
However, the changing of the guard at his label resulted in key internal changes at the company, and the artist found himself having to regroup and rethink his position. Parting from RCA, his dream was not to be deferred, and he continued striving and moving forward.
Being out of a major label deal would leave most artists spinning in disbelief. Recognizing the changing trends on the entertainment landscape, KENTRELL turned the tables and formed the alliance with Mathaus Entertainment to set a future course.
He has assembled a new team of innovative upcoming Producers for his fresh sound. The active network includes Justefan, Chad Wells, and (Warith) Hajj, who are writing and producing some incredible music for the forthcoming Love Untitled album project. The collection of songs, rooted in emotion, insight, and social commentary showcases his deep run roots, which encompasses Soul, R&B, Pop and Inspiration. The album will be preceded by two initial single releases to be launched regionally and on the Internet to re-introduce KENTRELL to audiences ahead of a more widespread radio promotional campaign.
The first song, "Ready For The World", reflects KENTRELL's belief in the preservation of happiness. He will also release the socially conscious "Stray Bullet." A record relevant to the times, that speaks on the increasing mindless violent shootings prevalent not only in his city of Chicago, but, worldwide. As he puts it, "We all are aware of what's going on, I just wanted to contribute in a small positive way, and the best way I know how is through my music and even more specifically through this particular song."
http://www.youtube.com/watch?v=Y6eS6vCZmlU&feature=youtu.be
His partner, Matthew Odunuyi of Mathaus Entertainment is also a firm believer in using music to reach people. With a vision of "Investing in people through music,"
He stated, "Let's change the culture of investing in "things" and start investing in people."
KENTRELL is now engulfed with ongoing work on his songs that will appeal to a wide demographic, and also exploring related opportunities.
VIDEO INTERVIEW: http://www.youtube.com/watch?v=n-61vk2ms90
An encompassing down-home and streetwise sensibility is planted in KENTRELL, as he is surely evolving as a multi-faceted talent to be reckoned with. In the past he has worked with music producers Malay (Frank Ocean, Jamie Foxx) and KP (Pink and John Legend). Additionally, Brian Michael Cox (Mariah Carey, Mary J. Blige…), and Mario Winans (Whitney Houston, Rick Ross…).
He continues to build his entertainment career by expanding his discography. He is rising like a Phoenix from a new foundation, fusing his style into a natural musical progression for incredible things to come.
It's back to the future for KENTRELL…bringing back that "feel good music."
"The kid has chops… discover a voice just as smooth…silky…" ~ Felipe Delerme/The FADER magazine
"He's sure to leave his admirers screaming bravo". ~ SoulTracks.com
"…manages to incorporate his love of old school music with his desire for mass appeal, unleashing a unique style of Pop Soul." ~ singersroom.com
KENTRELL is actively reaching fans and consumers via:
http://twitter.com/IamKentrell
http://www.kentrellonline.com/#!home/mainPage
https://www.facebook.com/enkentrol
http://www.ustream.tv/channel/enkentrol-tv
http://www.youtube.com/user/ENKENTROL
ABOUT:
EnKenTrol Music is an entity formed by KENTRELL with the intent to create and produce assorted entertainment projects, while building and establishing his brand globally.
http://www.kentrellonline.com/#!home/mainPage
ABOUT:
Mathaus Entertainment is the fastest growing Entertainment Company in the Midwest. We capitalize on the growing entertainment market across the world through the production, promotion, marketing and distribution of high quality entertainment.
http://www.mathausentertainment.com/Mathaus_Entertainment_Home.php