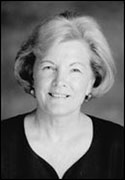 Barbara was an amazing guide—tolerant of us fumbling medical students—showing us how to interact with patients in a warm and respectful way.
Los Angeles, CA (PRWEB) September 12, 2012
This Saturday, the Division of Adolescent Medicine at Children's Hospital Los Angeles (CHLA) honors Barbara Marshall, Fred Ali and Zev Yaroslavsky at The CHAMPION Fund gala at the Beverly Hills Hotel. Through their volunteer and professional service, they have helped the High Risk Youth Program to serve the most vulnerable youth in Los Angeles for three decades.
In 1982, the Division of Adolescent Medicine at CHLA wrote a proposal to the Robert Wood Johnson Foundation (RWJF), which was looking to connect centers of academic excellence in medicine with community-based clinics, in order to strengthen the safety net for youth at highest risk.
As head of the Division of Adolescent Medicine at CHLA, Dr. Richard MacKenzie knew very well that many young people were arriving to Hollywood with hopes of success and freedom, only to quickly find themselves homeless and in serious danger. So, when he received the RWJF grant, he began to build a system of care with multiple entry points and services, including health, social, residential and counseling… to meet the youth where they needed it most.
The Los Angeles Free Clinic, now The Saban Free Clinic, had been founded in the late 1960s to meet the needs of the down-at-luck "flower children" in the region. MacKenzie explains the logic of the collaboration. "With them on one end of Hollywood and us on the other, we were able to establish a range of services in schools, shelters, and counseling services in between."
Jeffrey Bujer is the CEO of The Saban Free Clinic. "We have always prided ourselves in being a home for the underserved and those who are most vulnerable by providing comprehensive, dependable and affordable quality health care in a nonjudgmental and caring environment," he says. The partnership allowed increased staffing and an expansion of services. CHLA is a teaching hospital with a consistent supply of medical residents and Fellows through the USC Keck School of Medicine.
MacKenzie hired Gary Yates to run the program. According to Yates, "It took about six months to get a good feel of how to do the work and to put the exact team together that we needed." Remarkably, it is the only one of twenty programs RWJF funded across the nation that is still active today. "That's a real statement of what the hospital and the Free Clinic have done to keep the program together," says Yates. After running the program for ten years, Yates went to The California Wellness Foundation, where he recently retired after twenty years as President and CEO.
Barbara Marshall, wife of prolific Hollywood producer Garry Marshall and a registered nurse by training, volunteered as the program's sole RN for 15 years. "Barbara must have trained over a thousand residents and Fellows," says Dr. Marvin Belzer. He knows firsthand, because she trained him when he was a Fellow in 1984. Belzer now heads the Division of Adolescent Medicine and oversees the program. "Barbara was an amazing guide—tolerant of us fumbling medical students—showing us how to interact with patients in a warm and respectful way."
In 1991, Fred Ali helped to establish Covenant House in Los Angeles at a time when the region desperately needed beds for homeless youth. MacKenzie recalls how, "Fred got it. Instead of consolidating services into one place, Los Angeles needed a new model that would network services in multiple locations." CHLA continues this model today by sending its doctors, mental health and case management staff deep into the community. Its doctors continue to provide medical check-up services in a weekly clinic at the Covenant House shelter and transitional living program. In June 1999, Ali was elected President of the Weingart Foundation and became its CEO in 2006. He has remained engaged in implementing innovative solutions to teen homelessness his entire career.
Zev Yaroslavsky has prioritized and elevated programs serving high risk youth in his nearly four decades of public service. Since 1994, he has represented District 3, which includes the Hollywood area, stretching from Malibu to Silverlake and up into the San Fernando Valley. Before that, he was on the Los Angeles City Council from 1974 to 1994. Diana M. Bontá, President and CEO of The California Wellness Foundation, remarks on Yaroslavsky's long-time support of the region's most disadvantaged, "Zev actively works to improve the infrastructure of transitional services for the homeless, laying the groundwork to make a lasting impact."
At the gala on Saturday night, MacKenzie will present The CHAMPION flame award to Marshall, Yates will present to Ali and Bontá will present to Yaroslavsky. The event will feature a number of youth who have found health, stability and independence through CHLA's programs for adolescents. The California Wellness Foundation is the Presenting Sponsor of the event.