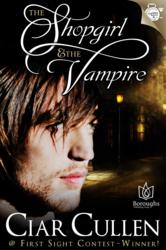 Lunchbox Romance Stories add sugar and spice to your workday.
Los Angeles, CA (PRWEB) September 14, 2012
Boroughs Publishing Group ("BPG") announces a new line of titles, Lunchbox Romance. On September 14, 2012, BPG will release three short stories for the kickoff of their hot new Lunchbox Romance series, including the winner of the @First Sight short story contest, "The Shop Girl and the Vampire". The other debut titles are "Vertigo" and "Some Like it Haute". Each week thereafter, BPG will release 1-2 new stories.
A wonderful break from the day-to-day doldrums, Lunchbox romance stories add sugar and spice to your workday.
Here's a taste of what these deliciously consumable Lunchbox romance stories are about:
"The Shop Girl and the Vampire" - At the cusp of the 19th century, a penniless lass learns her dashing guardian angel is actually a blood-sucking devil.
"Vertigo" - A top research scientist. A scientific journalist. A case of Vertigo and a beakers worth of misunderstanding. It's a formula for happily ever after.
"Some Like it Haute" - Too haute for comfort? A stylish gentleman meets his match when he wagers he can make a dowdy spinster the talk of the ton in Regency England.
Individual stories will cost $0.75 OR readers can enroll in BPG's Lunchbox subscription service, which includes:
· Five (5) stories for $3.25. That's a $0.50 savings off the cover price for five individual stories.
· Ten (10) stories for $6.50, which gives them a free story and $0.25 savings off story #9.
· BPG will send subscribers a new story each week.
For information about Lunchbox Romance series, please visit the Boroughs Publishing Group website, their Facebook Page and Twitter.
Submissions for the Lunchbox Romance series are also welcome. BPG is looking for stories between 6,000 - 12,000 words in all sub-genres of Romance. Authors interested in writing for the new line should visit Boroughs Publishing Group for submission guidelines.
About Ciar Cullen, Author of "The Shop Girl and the Vampire" and @First Sight Short Story Contest Winner
Ciar (KEE-er) Cullen comes from Baltimore, Maryland. She started her academic life as a theater major, but when she learned she couldn't act her way out of a paper bag she turned to archaeology, another love. She earned her degree at Indiana University, summered on digs in Greece and England, landed a gig in New Jersey and eventually went into nonfiction publishing.
Her third career is as a bureaucrat at a university. She is married to a photographer and has two cats. Eventually she hopes to retire to a small cabin, with the same husband and more cats. When she's not reading or writing, she loves to knit, to study all things Major League Baseball and to jog.
Boroughs Publishing Group, an ePublisher of romance novels, is part of the e-publishing revolution. Their trademark slogan, Where Story Matters, is bolstered by some of the best editors in the business. Editor-in-Chief, Christopher Keeslar, has won both national and local awards for his work, and is widely respected as an industry professional. For more than sixteen years, he was part of a core editorial team at a New York publishing house, building his list of best-selling authors. Chris enjoys a stellar reputation in the Romance industry, where authors and agents alike applaud him for his integrity, enthusiasm and commitment to producing great stories. He takes time to grow and groom authors rather than simply churn out product.
Editor, Jill Limber, is a multi-published author and former President of the Romance Writers of America. Her industry saturation, name recognition, integrity and fantastic reputation has helped bring many multi-published authors to Boroughs Publishing Group.
We publish Fantasy, Romantic Suspense, Historical, Contemporary, Paranormal, and Young Adult. For the latest, follow @BoroughsPubGrp on Twitter and on Facebook at http://www.facebook.com/BoroughsPublishing. "Where Story Matters"