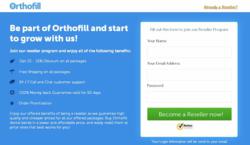 Ottawa, ON (PRWEB) September 12, 2012
Orthofill, the brand trusted to provide reliable and high quality dental bands, announces the launching of their Reseller Page. The leading producer of non-invasive solution to fix teeth gap has catered to approximately 175,295 clients with gaps in their teeth. Due to high demand Orthofill has decided to empower their existing clients and encourage them to become resellers through their Reseller program.
The Reseller Program will allow clients and interested prospects to sell the affordable packages of dental bands to a higher price or whatever price rate that works for them.
When a client signs up for the Orthofill reseller program the following benefits are offered:

10 to 15% Discount to all packages
Free Shipping on all packages
Dedicated customer support available 24/7
100% Money Back Guarantee valid for 50 days
Order prioritization
The benefits are reflected on the Orthofill reseller page as well as plans and pricing to help clients decide whether to opt in to the reseller program. The higher the quantity of the package the lower the price goes that only a reseller can avail. For example, buying a quantity of five packages with a regular price of $170 will save $49 as a reseller, while buying a quantity of 25 packages with a regular price of $850 will save $274 as a reseller.
Another option set by Orthofill is the power to set the quantity of packages a client wants to purchase. All the client has to do is enter the number of packages and automatically a calculated reseller price will appear. Anyone who wants to become an Orthofill Reseller, just visit http://www.orthofill.com/reseller and check out other benefits for being a reseller at Orthofill. Applicants will be prompted to provide their emails
Orthofill 100% Money Back Guarantee is a company policy to provide its clients a risk free package. Delivery time is only 14 business days or less. Orthofill values their customers very much. Their customer policy states that "If for any reason you are not completely satisfied you can simply send it back to our mailing address and we will give you a full refund with no questions asked."
For more information on how Orthofill can treat diastema in just 30 days, visit http://www.orthofill.com.
About
Orthofill is a company owned by Clicking Labs, Inc. that started in May 2010.With dedication and perseverance; they were able to bring together a team of multi-talented individuals to provide the world with creative and interesting marketing strategies to drive success to its clients. It has stations in Ontario, Canada and Cebu, Philippines.