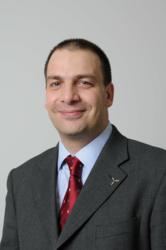 Business Secretary, Vince Cable said: "Andrew Jamieson has exactly the sort of skills and background needed to lead the Offshore Renewable Energy Catapult, and I'm looking forward to working with him."
Glasgow, Scotland (PRWEB UK) 12 September 2012
As CEO of the Offshore Renewable Energy Catapult, Jamieson will be responsible for delivering the short and long term objectives of the Catapult, including recruitment of the Catapult team and delivering a robust business plan1.
The new Catapult will accelerate the development of commercially viable technologies applicable to offshore wind, wave and tidal power. It will do this by bringing together knowledge, expertise and state-of-the-art facilities to help UK businesses develop innovative, reliable and cost effective technologies that can reduce the cost of energy from offshore renewable energy sources. Businesses working with the Catapult will reduce the financial and operational risk associated with bringing profitable products and services to market.
Jamieson brings over 20 years' experience in the energy sector to the Catapult. He joined ScottishPower in 1988 and has held various positions within the company, including engineering, marketing and investor relations. In 2004 he joined ScottishPower Renewables, where he was responsible for energy policy and regulation.
Jamieson also holds a number of chairman responsibilities. He is currently Chairman of RenewableUK, the UK trade body for wind and marine renewables. Until recently he chaired the Government-Industry Offshore Wind Cost Reduction Task Force, which published a report setting out actions and solutions to reduce the cost of offshore wind energy by at least 25% by 2020.
Business Secretary, Vince Cable said:
"Offshore renewable energy presents an excellent opportunity for our economy. The new Catapult will help us seize that opportunity and look to the long term, bring new products quickly to market and create sustainable green growth.
"Andrew Jamieson has exactly the sort of skills and background needed to lead the Offshore Renewable Energy Catapult, and I'm looking forward to working with him."
Commenting on his appointment Andrew Jamieson said:
"I am delighted to be invited to be the CEO of the new Offshore Renewable Energy Catapult. The UK offers huge investment potential in the offshore wind, wave and tidal generation industries. We will work closely with industry large and small, academia, enterprises and Government to ensure we identify, create and commercialise the best technological and innovation solutions to serve our offshore generation industries, grow UK-based supply chains, and help them prosper for many years to come."
Colin Hood, Chairman of the Offshore Renewable Catapult said:
"Andrew has shown exceptional leadership throughout his career, he is passionate about renewable energy and has extensive knowledge of the challenges associated with offshore renewables. He is also extremely well connected and can count on respect from the industry, research base and government. We are very excited that he has agreed to lead the Catapult, he is the right man for the job."
Ian Gray, Chief Executive of the Technology Strategy Board said:
"We are delighted that Andrew has joined us at this important stage of establishing the Catapult. He has demonstrated leadership qualities throughout his career and brings considerable knowledge of renewable energies found offshore that will help lead the Catapult team."
The Offshore Renewable Energy Catapult is part of a network of world-leading technology and innovation centres, established and overseen by the Technology Strategy Board as a long-term investment that will open up global opportunities for the UK and generate economic growth for the future.
When it becomes operational next year, the Catapult will be a national resource, based in Glasgow, with strong links with centres of excellence across the UK, such as the European Marine Energy Centre, Wave Hub, and the marine energy parks in the South West of England and Scotland. It will also establish an operational facility in Blyth, Northumberland.
-Ends-
Notes to Editors
1. The Offshore Renewable Energy Catapult business plan includes key milestones for the Catapult to help grow the industry and play an active role in reducing the cost of generating energy from offshore wind and showing how this can be extended to wave and tidal energy sources.
2. The Technology Strategy Board is the UK's innovation agency; its goal is to accelerate economic growth by stimulating and supporting business-led innovation. Sponsored by the Department for Business, Innovation and Skills (BIS), the Technology Strategy Board brings together business, research and the public sector, supporting and accelerating the development of innovative products and services to meet market needs, tackle major societal challenges and help build the future economy. For more information please visit: http://www.innovateuk.org
3. Catapults are centres of excellence that bridge the gap between business, academia, research and government. They are a powerful new element in the UK economy, helping businesses develop relevant and exciting ideas in receptive and invigorating environments.
The Technology Strategy Board will oversee the Catapults. The High Value Manufacturing Catapult was the first to open in October 2011. Catapults for Cell Therapy, Offshore Renewable Energy and Satellite Applications, Connect Digital Economy, Future Cities and Transport Systems are also being established.
4. The Offshore Renewable Energy Catapult is located within the International Technology and Renewable Energy Zone (ITREZ) in Glasgow. ITREZ is emerging as a global research and development hub, bringing business and academia together to work collaboratively on the development of the offshore renewables sector. The Catapult is part of a growing hub of companies including Atkins, Gamesa, Doosan, ScottishPower, SSE Renewables and Technip in establishing an international centre for excellence for research and development, design and engineering of renewables.
5. The Offshore Renewable Energy Catapult will have its operational facility located at Narec in Blyth, Northumberland. In recent years Narec has invested over £150 million to create world-leading open access and independent translational research, development and testing facilities for offshore wind, wave, tidal and electrical network technologies. Narec works extensively with the offshore wind energy supply chain to increase device reliability, reduce product costs and accelerate the development and deployment of offshore renewable energy technologies in the UK. The Catapult will be able to benefit from these world-leading facilities and expertise.
6. Media enquiries only should be addressed to the Technology Strategy Board's media relations team: Maarten Abele, Communications - Mobile: 07584 364195, Email: maarten.abele@tsb.gov.uk or Claire Cunningham, Head of Media Relations - Tel: 01793 442901, Mobile: 07554 115745 Email: claire.cunningham (at) tsb (dot) gov (dot) uk.