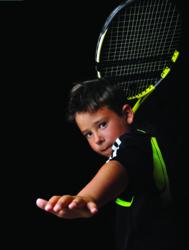 (PRWEB UK) 12 September 2012
David Lloyd Leisure, the UK's leading racquets, health and fitness group, expects to see a surge in children wanting to take up tennis as a result of being inspired by Andy Murray's US Open championship victory earlier this week.
Some 12,500 youngsters already play tennis each week across the country following the group's Tennis All Stars exclusive junior coaching programme, including some of the most talented junior players in Europe.
Sarah Hobbs, head of sports, health and fitness for children at David Lloyd Leisure, said: "A high-profile victory of a home-grown hero like Murray is a wonderful way to create more interest in tennis, particularly among children who aspire to be like their sporting heroes, and whose participation today is key to tennis's future development and success."
"We know that introducing children to tennis at an early age in an interactive, fun and rewarding way is absolutely key in securing continued uptake of the sport and maintaining their commitment. This is vital if we are to nurture their talent and, in the process, discover some future stars of the game. Most importantly, we want to show youngsters of all ages and abilities that tennis is a fun and sociable game."
David Lloyd Leisure, which provides a range of courses for adult tennis enthusiasts of all abilities, also expects to see more parents on court following Murray's victory, and believes the role of the family is crucial in engaging youngsters' interest in doing sport and taking regular exercise against a backdrop of growing childhood obesity levels.
"If we don't nurture these skills when they are young, children will find it difficult to perform well in sporting scenarios as they grow up and there is a danger that they will become reluctant to participate. Children form their life-long habits observing and following the lead of their role models.
"Parents taking part in sport with their children is a really important part of so many areas of development and fitness, and activity needs to be a priority for families if the long-term health of today's generation is to be secured."
Launched six years ago, Tennis All Stars is a bespoke, structured coaching programme for 3-11 year-olds designed in partnership with the Lawn Tennis Association (LTA). Players progress through a colour-coded system of red, orange, green and yellow based on age and level, and are given the opportunity to compete at almost every stage.
The programme is supported by a mini tennis ratings system, designed to reward players for competing, inspire them to develop their game, offer the opportunity to compete more regularly and to reach their full potential.
Children showing real talent can move on to David Lloyd Leisure clubs with enhanced performance programmes. The group's network of 80 UK clubs includes two high performance centres at Southampton and Raynes Park, South West London, and performance squads at eight other venues.
With a quarter of its 450,000 members playing tennis, the company provides more than 700 indoor and outdoor tennis courts, and operates the world's largest commercial tennis team in the world with more than 400 qualified tennis professionals, endorsed by the LTA. Its facilities have been used by many world-famous players, including Andy Murray whom David Lloyd Leisure sponsored between 2006 and 2008.
Earlier this year, David Lloyd Leisure invested £325,000 in launching the tennis-squash hybrid, padel tennis– which is hugely popular in Spain and Latin America – at its Chigwell, Essex, club as part of its efforts to get more people playing tennis.
The company, which is the first nationwide operator to bring the sport in the UK, has plans to introduce it at further clubs in its estate.
CASE STUDY
One family from Glasgow is proof that engaging youngsters early on and developing their skills with expert coaching in an interactive, fun and rewarding way is key to nurturing future British talent.
The Lumsdens, who train at David Lloyd Glasgow West End, are a trio of children who were introduced to the sport via Tennis All Stars and their achievements to date are impressive. Maia Lumsden is the U14 European champion, her brother, Ewen, is British U12 No.1, and the youngest, Eve, 10, is already in the UK's top 20 for her age group.
Their mother, Gillian, says: "It [Tennis All Stars] was really well advertised within our club and the coaches recommended it. The kids liked the colourful displays and wanted to be involved.
"We wanted our children to participate in a safe and friendly environment and we knew there were good quality coaches. They enjoyed the competitive side of the sessions and the interaction with other players and coaches. They also loved being rewarded with a book and stickers as they learned new skills and progressed to the next level.
"The coaches are really good fun, and are really encouraging and enthusiastic in the sessions, and the club and facilities are fantastic.
"All three children want to be the best that they can be in tennis. They want to continue to represent their club and country at both national and international level, and to continue to travel around the world in order to develop their game at the highest level."
In addition to their haul of trophies, the children have learnt essential life skills along the way.
"It helps them to get on with other children and educates them on the benefits of leading a healthy lifestyle," comments Gillian. "It also improves their confidence as they progress in their tennis."
Note to editors: For more information about this press release, contact the David Lloyd Leisure press office on 01707 289833 or email [press@davidlloyd.co.uk
About David Lloyd Leisure Group
The David Lloyd Leisure Group operates 80 clubs in the UK and a further 10 clubs across Europe.
David Lloyd Leisure has over 450,000 members and employs 6,000 people. This includes an expert health and fitness team of over 1,800, while it contracts the services of more than 400 tennis professionals.
Across all clubs, David Lloyd Leisure has over 150 swimming pools (of which half are indoor) and offers over 10,000 exercise classes per week. Every week 20,000 children learn to swim at David Lloyd Leisure and 14,000 learn to play tennis. Its racquets facilities are unparalleled with 700 tennis courts as well as 180 badminton courts and 140 squash courts. Additional facilities include health and beauty spas, club lounges with free internet access, crèches, nurseries and specialist sports shops.