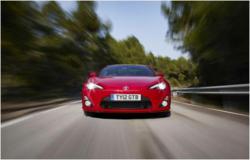 (PRWEB UK) 13 September 2012
What is it?
It's the most exciting car to come from Toyota in years. Ever since the MR2 was discontinued the Japanese firm has been missing a fun sports car in its line-up, and the GT86 is the model hoping to change all that.
It's been developed alongside the Subaru BRZ and comes with a 197bhp 2.0-litre engine and a rear-wheel drive chassis for the purest driving thrills possible. Starting from £24,995 they'll be affordable thrills too.
What's hot?
With 197bhp from the 2.0-litre engine it may not sound like there's loads of performance, but 0-62mph in 7.6 seconds feels like all the performance you'll ever need.
All the controls are perfectly weighted, with a nice accurate feeling gearshift, easy to use pedals and light but responsive steering.
And the GT86 really shines in the corners. It feels light, agile and fabulously responsive.
The sporty Toyota certainly looks the part too. With its sharp lines and aggressive front end it's a world away from the dumpy Auris or the dependable Avensis
What's not?
The back seats. You could squeeze youngsters in there but anyone else will struggle.
And the interior itself doesn't feel particularly premium. It looks nice but there are quite a few hard and scratchy plastics dotted around.
Refinement needs a bit of work too, as the engine can drone on the motorway and there's plenty of wind and road noise too.
That 2.0-litre engine will cost you in BIK tax thanks to its relatively high CO2 emissions of 181g/km. That translates to 27 per cent of the P11D value, or about £6600...
…so expect a monthly company car tax bill of some £220 a month if you're a 40% tax payer
The more expensive automatic gearbox makes CO2 emissions better and reduces the company car tax banding to 23% and the overall company car tax bill. The downside is that it also hampers acceleration and takes away some of the GT86's fun driving experience.
Business Car Manager road test Verdict
The Toyota GT86 is a car designed for driving enthusiasts. It's not practical, it's not particularly efficient and it's not luxurious… but it is lots of fun. Think of models like the Mazda MX-5 or the Porsche Boxster that favour driving thrills above all else and you'll begin to understand the GT86.
If that sounds like something that might appeal to you then you won't be disappointed when you get behind the wheel. Just bear in mind that your pence per mile costs will be quite high and BIK company car tax is higher than usual too. And if you go for the auto, while you have the effortlessness of an auto box and slightly lower company car tax, some of that raw excitement evaporates.
But stick to the manual GT86 and you'll soon forget about those additional costs when you're on a twisty back-road enjoying the GT86's agile chassis. This is a Toyota that brings real excitement back to the brand. And as a sop to your business car finance, the chance to own a really satisfying sports car for a fraction of the cost of a Porsche.