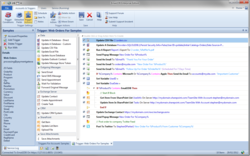 New York, NY (PRWEB) September 14, 2012
Roberta Piket is renowned for going that extra mile for her clients in delivering computer consultancy services and support throughout New York and the surrounding area through her company New York Geek Girls Computer Services.
NY Geek Girls serves a large number of small business and home users. The company provides a more personalized and professional alternative home service in comparison to that offered by big box stores, while acting as a virtual IT department for small businesses that aren't looking to hire full-time technical staff.
Roberta is always looking to help people use technology to the best of their advantage and this also applies to her own business. Having successfully evaluated and implemented Parker Software's Email2DB software, she has dramatically improved her customer service with relation to support based requests.
Roberta's use of Email2DB enables her to efficiently process inbound support requests and automatically create tickets in a PSA software application called Autotask. NY Geek Girls customers can request support via email or through a contact portal on the website. Email2db then adds all the email correspondence related to the ticket automatically. Not only is service improved, but what was previously a manual task of copying and pasting has been made a lot easier and less time consuming with the automation capabilities of the software.
Roberta is also a renowned professional jazz pianist and she has also found a novel way of utilising Email2DB to better engage her fans via her artist web site at http://www.robertajazz.com. On her website fans can request that their email be added to a mailing list. Emai2DB has then been configured to parse these email addresses so that they automatically get added to the correct list for their particular geographic region.
Roberta is now identifying other ways she can benefit from Email2DB, providing her more time to focus on not only her successful growing business but also her musical career.